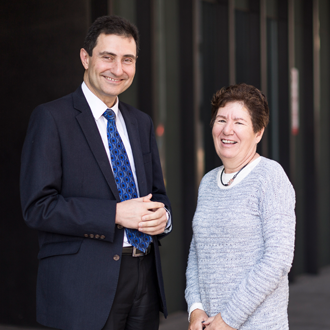 We know that some people living with diabetes develop eye, heart and kidney disease but others do not. Why is this?
The problem
Because a healthy lifestyle is not always enough…
You probably know someone who has heard these three gut-wrenching words: "You have diabetes." Today, you can help take the fear out of those words.
Sadly, 1.7 million Australians are living with diabetes right now. It's a terrible disease that you wouldn't wish on even your worst enemy. Diabetes is the leading cause of kidney failure, lower limb amputation and preventable blindness. Its effects can be devastating.
Fortunately, the Baker Institute's Professor Jonathan Shaw is determined to uncover better ways to treat diabetes and prevent its devastating effects.
The story of 62-year-old mother, Terry, highlights the urgent need to better understand diabetes today so that people like her, who are doing all they can to fight diabetes, can succeed.
Terry's story
Imagine you are in the prime of your working years, aged 40. You have two young children, aged 5 and 8 years old. It's odd, but you begin to notice that your eyesight is getting a bit cloudy. A visit to the optometrist reveals that you have early cataracts. Not long after, you're also diagnosed with diabetes.
You make a point of seeing specialists and you carefully manage your diabetes. Yet, your kidneys are still failing you. Now you're told that possibly you may need lifelong dialysis or a kidney transplant to survive.
This is what happened to Terry.
"The doctors tell me that I lead a healthy lifestyle … Yet some things have been completely out of my control. What scares me the most is that I'm now facing kidney disease … I'm an active, independent person and this terrifies me."
In Terry's case, it was not an unhealthy lifestyle that caused her type 2 diabetes. Her diabetes is a result of her strong family history of the chronic disease.
Thankfully Terry's two daughters, now aged 27 and 30, have not been diagnosed with diabetes. At least, not yet.
Diabetes is complex. We know that eating well and being active is not always enough protection.
To add to the problem, we know that some people living with diabetes develop eye, heart and kidney disease but others do not. Why is this?
The facts
Up to 30% of people with diabetes will develop kidney disease.
Diabetes is the leading cause of preventable blindness.
70% of people with diabetes will experience heart disease or stroke.
The solution
Tracking the risk
In partnership with La Trobe University, Professor Shaw will study 1500 people with type 2 diabetes for the next five to 10 years to track the development of any complications of their diabetes.
Professor Shaw explains the importance of this world-first study:
"We need to gain a better understanding of what drives the development of diabetic complications in some people, like Terry, and not in others.
In addition to looking at classical complications of diabetes such as eye, heart and kidney disease, the study will also examine complications that can greatly impact a person's independence such as cognitive impairment and physical disabilities."
This study is an important follow-up to the Baker Institute's AusDiab Study – a population study over 12 years that examined the commonness and frequency of diabetes and its complications. The AusDiab study highlighted diabetes as a major public health issue in Australia.
It never used to be. Thirty years ago, around 250,000 Australians had diabetes. Today that figure is around 1.7 million. And it's growing.
Now on average, one Australian will develop type 2 diabetes every five minutes. That is someone's mother, father, brother, sister, child or friend.
Imagine a world where when you hear those three words: "You have diabetes", it doesn't mean that you may also suffer eye, heart or kidney disease.
How great would you feel knowing that research carried out today with your caring help, has been turned into everyday treatments and healthcare for the benefit of people like Terry, or even, you and your loved ones.
How your generous gift will help
Your wonderful financial support can help researchers like Professor Shaw to better understand diabetes. More importantly, your generosity can help prevent the terrible effects of diabetes, like kidney failure, happening to Australians like Terry.
Not everyone will suffer the devastating effects of diabetes like heart attack, stroke, amputation, kidney failure, depression, dementia, and blindness. But we don't yet understand who will and who won't.
Your wonderful support can help to find out. Please send your tax-deductible, generous donation before 30 October and help the 1.7 million (and rising) Australians with diabetes, like Terry, to live healthier for longer.
Every kind gift from visionary people like you, who care about the good health of our community, counts to bringing us one step closer to solving diabetes and beating it for good.
Thank you!