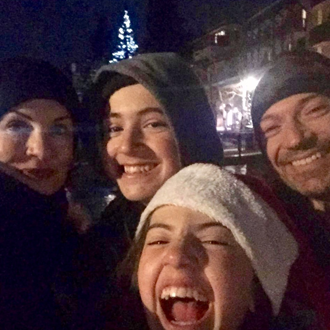 Ross was a wonderful husband and father. But sudden cardiac death took him without warning. He was just 47.
The problem
Unexplained cardiac death is one of the biggest killers of Australians under fifty and it is estimated that 1000 Australians who have previously shown no symptoms of heart disease are killed each year by this unexpected and unexplained killer.
The number of deaths from sudden, unexplained cardiac death is comparable to the national road toll, and yet it is dangerously overlooked and doesn't receive the attention or the funding that it desperately needs.
Unexplained cardiac death strikes most frequently fit, healthy Australians with no apparent symptoms. People who are fit and lead a very healthy lifestyle are not guaranteed protection from unexplained cardiac death. Sadly, the community loses young people in the peak of their productive years all too often.
You have the power to change all of that.
Ross's story
Ross Dennerstein was unexpectedly struck down at only 47 years and his cardiac death remains unexplained. Ross was incredibly fit, and he loved to exercise and play sport. Ross was born to fly, and he became the youngest pilot ever recruited by Australian airlines. By age 21, he was a First Officer, and at just 28 he went on to become one of the youngest ever appointed Captains.
Regular health checks were a necessity for his profession and he had none of the risk factors or physical symptoms associated with cardiac death. The health checks never revealed any issues or concerns.
Ross' wife Penny told us about the day that Ross was tragically taken from his family.
"It was on a normal Sunday afternoon that my life changed forever. Looking back, we were so fortunate to spend the day together as a family. We enjoyed a nice lunch and we all watched a movie."
"Ross went to his office to answer a few emails and after a while, he came into our bedroom and sat on the edge of the bed. Looking at me, he said, "I don't feel well", and instantly, he just collapsed."
"At first, I screamed, but then my background in nursing kicked in and I desperately began performing CPR. My children ran into the room and the ambulance was called."
"But it was already too late. From the moment Ross hit the bed he had no pulse and he stopped breathing."
"In the blink of an eye my beautiful husband was gone. He was just 47 when he died. I didn't even get the chance to say a proper goodbye."
The solution
Penny, Ross' three children and his mother Lorraine have decided not to let Ross' death be in vain. The family have partnered with the Baker Heart and Diabetes Institute to help fund desperately needed research into the causes and prevention of sudden cardiac death in young and middle aged people.
Already they have helped to fund the first national registry of victims of unexplained cardiac death. This registry is the first step in addressing this heartbreaking problem. The registry will enable the collection of vital information and data from all sudden cardiac death victims into one central location. The data will then help researchers to analyse and explain what is currently inexplicable.
The next phase of the project involves using this new collection of information to also prevent sudden cardiac deaths from happening in the first place.
Associate Professor Andre Le Gerche at the Baker Heart and Diabetes Institute is leading a dedicated team of bright scientists who are waiting to kick-start this critical research project.
Associate Professor La Gerche explains further:
"Sudden cardiac deaths in young people are on par with deaths caused by suicides, drugs and car accidents, occurring in about two in 100,000 people each year. In about 40 per cent of these cases we don't find the cause, which is an enormous frustration. There is a great need for more research and funding to prevent people from dying suddenly."
We need to discover new ways to identify patients who may be at risk of sudden cardiac death. But we don't have all the funding we need to do this.
The facts
Sudden cardiac death is a leading killer of Australians under 50.
Every day, 3 Australians under 50 lose their lives to sudden cardiac death.
Every year the number of people who die from sudden, unexplained cardiac death exceeds that of the state road toll.
15,000 Australian lives are lost to sudden cardiac death every year.
Young men are 5 times more likely to die from sudden cardiac death than women.
How your gift will help
Every day another three people under the age of 50 will die from sudden cardiac death. Your support can provide Associate Professor La Gerche and his brilliant team with the help they need to conduct this groundbreaking research without delay.
You can help thousands of Australian families evaluate their risk of sudden cardiac death by helping our researchers analyse vital data.
You can help provide answers to the families left behind by helping our researchers conduct DNA testing to pinpoint genetic abnormalities that may cause sudden cardiac death.
You can help give hope to thousands of Australian families by helping our researchers to discover new treatments to prevent unexplained sudden cardiac in those at risk.
Perhaps most importantly, your support will help to provide answers to people like Penny Dennerstein. The grieving wives, and families who are just wondering why their loved one was taken from them so abruptly.
3 people per day under 50 are dying from sudden cardiac death. Can you please give kindly today to help our researchers discover new and innovative treatments to prevent unexplained cardiac death in those at risk?
Your actions have the power to spare thousands of young lives from being tragically lost, and provide comfort and closure to grief stricken families. Please make a tax-deductible gift before 30 June.
With your help we can give all Australians the opportunity for a much brighter and happier future. Thank you.