The Baker Institute's Aboriginal Health Domain is a national body of research which began in Central Australia and has expanded to include additional sites at Melbourne and Sydney.

Baker Heart and Diabetes Institute Central Australia, located in Alice Springs (Mparntwe), was founded in 2007 becoming the second health and medical research institute to be located in the Northern Territory and the first in Central Australia. It was established to help address the profound disadvantage experienced by Aboriginal people in central Australia and throughout the Northern Territory through scientific research that is rigorous, culturally appropriate and ethically sound.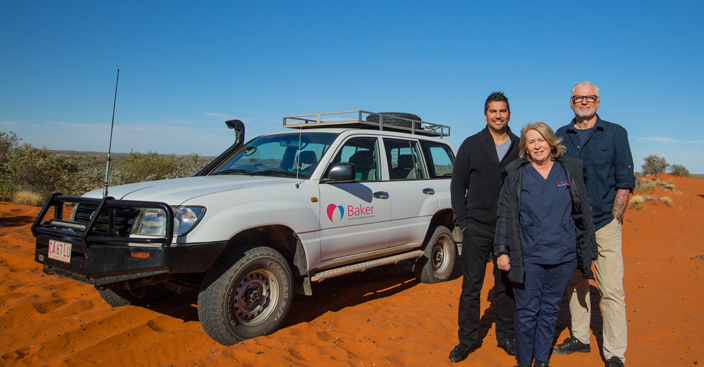 While the Baker Institute's Aboriginal Health places emphasis on the needs of people in the Northern Territory, our expertise in research spans many other jurisdictions and enables contributions in Aboriginal and Torres Strait Islander health spanning from major cities to the most remote communities in Australia and collaborations which address global Indigenous health more generally.
We are dedicated to carrying out collaborative research projects in response to community needs that build much needed knowledge and that provide practical contributions to Aboriginal and Torres Strait Islander peoples' health. While research is our main business, we are much more than a collection of research projects.
As a clinical service provider, we provide outreach health services to Central Australian remote communities and Alice Springs Hospital in order to improve access to specialist care. In the way we do our business, we are dedicated to supporting capacity building within the communities and organisations we work with, as well as our own staff's development.
We are committed to ensuring that Aboriginal and Torres Strait Islander people are engaged and in control of their own health. Our 'way of doing business' includes working with and empowering Indigenous community-controlled organisations. In addition we have a focus on facilitating employment and capacity building of Aboriginal and Torres Strait Islander people within our organisation.
We are passionate about using our skills and expertise to learn more about Aboriginal and Torres Strait Islander health and to contribute to better health outcomes. The depth of our commitment is what defines the Baker Institute's Aboriginal Health.
Why is this important?
As highlighted in the AIHW report Australian Burden of Disease Study: impact and causes of illness and death in Aboriginal and Torres Strait Islander people 2011, Indigenous Australians still experience a burden of disease that is 2.3 times the rate of non-Indigenous Australians.
Chronic diseases are responsible for more than two-thirds (70%) of the gap in disease burden between Indigenous and non-Indigenous Australians, with cardiovascular diseases making up 19 per cent of this gap. The report shows that around 37 per cent of the burden of disease in Indigenous Australians, in 2011, was preventable.