The Baker Institute's report, Code Red: overturning Australia's cholesterol complacency, provides analysis of the first new Australian cholesterol data in nearly a decade.
The report examines MedicineInsight data over a ten-year period from 2010 to mid-2019 of 107,664 Australians who have experienced a prior cardiovascular event. This cohort of patients was being managed by GPs from general practice sites from each state and territory in Australia.
The key findings showed:
79% of Australians examined as part of this report were prescribed the recommended lipid-lowering therapy.
But almost half (48%) of high-risk Australians managed in primary care are not meeting the recommended LDL-C targets.
A higher proportion of those with a sub-optimal LDL-C were women (56%), had cerebrovascular disease (58%), and had a more recent CVD event within the last 5 years (58%).
Over the past decade, the number of Australians not reaching the treatment targets for LDL-C has remained steady (56% in 2010 compared to 52% in 2019). In any year, LDL-C was higher for women than men.
New modelling reveals more than 3738 lives could be saved and over 13,740 CVD events prevented over the next five years with optimal cholesterol management.
Over the next five years, $66.6 million in healthcare costs could be saved with intervention to achieve optimal LDL-C targets.
The findings in Code Red demonstrate a systematic and stepped care approach is needed to reform cholesterol management, in a way that unites the sector — from policy and political decision-makers, to the manufacturers, as well as the patient, clinical, and advocacy communities.
Click the image below to read the Code Red report.
This report, led by the Baker Institute, was supported by funding from Amgen Australia. It was authored by: Associate Professor Melinda Carrington, Dr Tina Cao, Dr Tilahun Haregu, Dr Lan Gao (Deakin University), Professor Marj Moodie (Deakin University), Dr Stephanie Yiallourou and Professor Tom Marwick.
Amgen Australia Pty Ltd provided funding for this research and procured the services of VentureWise Pty Ltd (VentureWise is an independently run, wholly owned commercial subsidiary of NPS MedicineWise) who contracted Baker Heart and Diabetes Institute to produce this Report. The Institute is grateful to NPS MedicineWise and in particular, the general practices and general practitioners who participate in the MedicineInsight program, and the patients who allow the use of their de-identified information for MedicineInsight.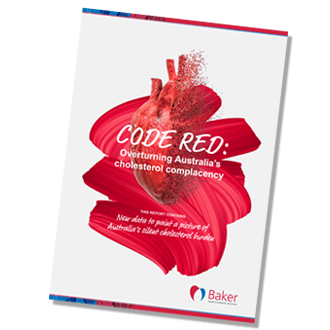 The findings in this report demonstrate a whole of healthcare system response is needed to reform cholesterol management in Australia.