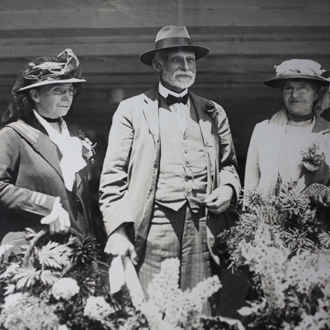 Assists the advancement of women in science whilst counteracting some of the barriers women face in the course of their scientific careers.
The aim of the Alice Baker and Eleanor Shaw Gender Equity Fellowship supports outstanding female scientists recruited to or currently employed at the Baker Heart and Diabetes Institute who are striving for career independence but have not yet reached the appropriate milestones to receive competitive funding through traditional granting bodies.
Recipients
2022 | Professor Dianna Magliano OAM
2020 | Associate Professor Morag Young
2018 | Dr Adèle Richart
2017 | Dr Stephanie Yiallourou
2016 | Dr Bianca Bernardo
---
Alice Baker and Eleanor Shaw
Alice Baker married Thomas Baker at St Paul's Church of England, Maryborough, Queensland in 1877. By 1881, the couple had moved to Melbourne. Thomas worked with his father for a time before becoming a pharmaceutical chemist in Maryborough. He later went into business importing and producing photographic materials with J.J. Rouse, assisted by Alice, who developed photographs and took customer orders. Baker's firm eventually amalgamated with the London Kodak company to form Kodak (Australasia). During WWI, he was associated with munitions production and reputedly spent a large amount of money searching for oil in Australia and New Zealand.
The Bakers had no children. They were known for their philanthropic activity, though they often made donations anonymously. They supported the Red Cross, the Big Brotherhood, Toc H and the Limbless Soldiers, but their greatest benefaction was to the Alfred Hospital. An initial donation in 1913 went toward cancer research. In 1922, Thomas Baker financed a biochemistry department at the hospital. Following the opening of the new building in 1926, the Bakers pledged ongoing support for the laboratory for five years and provided their first grant, a lump sum of £20,500 (perhaps $1 million today). The laboratory was named 'The Thomas Baker, Alice Baker and Eleanor Shaw Medical Research Institute' after the Bakers and Alice's sister. Following Thomas Baker's death in 1928, Alice and Eleanor, along with J.J. Rouse and family, continued to support the Baker Institute. The wills of Thomas, Alice and Eleanor included provision to set up a trust that would support research at the Institute as well as providing aid to other charities. By 1974 the Baker Institute had received nearly $4 million from the trust.
Alice Baker supported her husband's philanthropy and was also an active supporter of the Women's Hospital and the Talbot Colony. She was prominent in the National Council of Women and represented Australia at the Toronto meeting of the International Council of Women. While Thomas Baker received no public honours, Alice was appointed C.B.E. in 1933, two years before her death at South Yarra.
Information sourced from The Australian's Women's Register