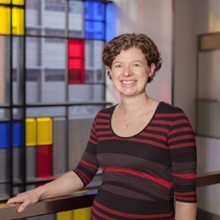 Heart Foundation Fellow Dr Kate Weeks works in the Institute's Cardiac Hypertrophy laboratory and her pioneering research in heart failure, including the development of a gene therapy tool, had already helped her earn an overseas training fellowship to undertake postdoctoral research at King's College London.
Continuing this career trajectory when she returned to the Baker Institute was a priority but so too was starting a family so receiving a Women in Science Support Grant from the Institute was both a practical and morale boost for her career.
Kate received a $10,000 support grant which allowed her to present at an interstate conference (travelling with her baby and carer) and employ a research assistant on a casual basis to maintain her publication output while she was on maternity leave — both of which are critical for maintaining a good track record in science.
"Maternity leave can be a time when you fall behind your peers in the scientific arena and this grant helped me to continue with some of my projects and make that period a little less daunting", Kate said.
Kate now works four days a week and says with a supportive supervisor and family, she is looking forward to advancing her research into new treatments for heart failure, which is already a leading cause of hospitalisation in Australia and set to increase rapidly in coming years with an ageing population.