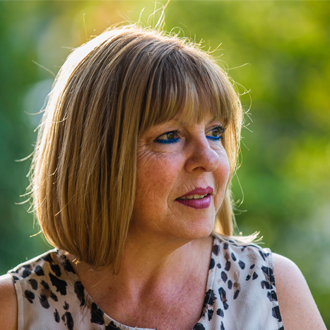 "Imagine the opportunity to protect yourself and your loved ones from the pain, long-term suffering and uncertainty a heart attack can bring" — Sue
Atherosclerosis: a big word for a big problem
Here is something that you may already know about heart attack: if you have had a heart attack, you have coronary heart disease and it is almost always because of atherosclerosis. It's a big word for a big problem; and heart disease remains the number one killer in Australia and globally.
What many people do not know is that atherosclerosis begins at a much earlier age than you think; it usually starts in the teens and 20s, and over the years it gets worse. It is a disease that concerns everybody.
You can develop atherosclerosis in two different directions, either way; there is the risk of heart attack. You may develop stable plaques that build-up over time and narrow the arteries; or you may develop unstable plaques that are prone to rupturing.
Here is something that you should know about heart attack: rupturing of unstable plaques causes the majority of heart attack. The more troubling part is, there is currently no screening method available in hospitals today that can identify unstable plaques.
Surely, you may say to yourself, angiography must be the benchmark for screening; virtually every patient that has endured a heart attack has had an angiogram. The big issue is that it can detect narrowing of the arteries but it does not identify inflamed, unstable plaque build-up in the wall of the coronary arteries.
So it is not unheard of for someone to get the all clear, only to suffer a heart attack the next day. The thought of this happening to you or a loved one is simply daunting.
Fortunately, the Baker Institute's Professor Karlheinz Peter and his team have found a way using near-infrared fluorescence light to detect these unstable plaques that typically lead to heart attack; but he needs your help to further his research to make it an everyday reality.
Sadly, heart attack claims, on average, the lives of 22 Australians a day! Every 10 minutes, one Australian suffers a heart attack.
Sue's story
Sue's story reminds us just how alarming this reality is, and highlights how emotionally stressful it can be to endure watching loved ones — her father and all three brothers, succumb to heart attack in one way or another.
"Dad suffered a stroke and spent a lot of time in hospital. I remember visiting him in hospital, and on special occasions, he was allowed home on weekends. One day, I remember coming home from school and Mum was in an inconsolable babble of tears. It turned out that Dad had died of a heart attack in hospital. I was only nine years old.
David, the brother closest to my heart, suffered a heart attack at age 50. He survived, but struggled with complications after a second heart attack only four years later. Sadly, he passed away just last year after a long-fought battle. 2017 was a horrible year."
To further test her, Sue herself has personally suffered not one, but two heart attacks.
"Living with the threat of heart attack can create anxiety. As you get older, you quickly realise health is everything."
For people like Sue — a mother, sister, aged care worker — who cares so much for other people, Professor Peter's new screening technology means that she can have the care that she deserves too, and the ability to live a longer, healthier life with her loved ones.
"The reality is that Professor Peter's research could have saved my family. And although it hasn't, more importantly, it still could even save your life, or the life of someone in your family."
Without your donation, this remarkable research could go unfulfilled and its potential benefits lost to thousands, not just here in Australia but around the world.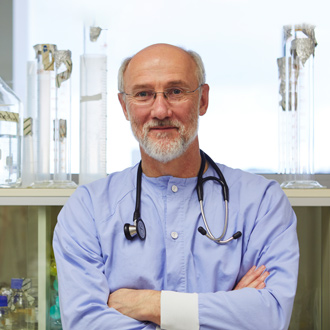 "Having witnessed my own father experience multiple heart attacks … I'm determined to solve this major problem." — Professor Karlheinz Peter
The facts
On average, in Australia, heart attack kills 22 people a day.
Almost two thirds of heart attacks are caused by deadly unstable plaque.
Currently, no screening method available in hospitals or clinics today that can identify unstable plaques.
Identifying unstable plaques: the 'holy grail' of cardiology and heart care
The solution
As a teenager, having witnessed his own father experiencing a heart attack and then two subsequent heart attacks; no one is more determined to solve heart attack then Professor Peter.
He and his accomplished team are attacking the challenge from all angles — finding better ways to predict, prevent and treat atherosclerosis — the largest cause of heart attack, and ultimately save lives.
Professor Peter's method of using near-infrared fluorescence light to detect unstable plaques that typically lead to heart attack means that one day, people can be given definitive answers about their risk of a heart attack or other coronary events. This is especially hopeful news for people who have already survived one heart attack and are at greater risk of a fatal second heart attack; or have a strong family history of heart disease.
Current treatment for heart attack is given after the traumatic event has happened. With Professor Peter's pioneering technology, it means the opportunity to apply treatment before a heart attack even happens.
Now that would be something; the opportunity to protect yourself and your loved ones from the pain, long-term suffering and uncertainty a heart attack can bring.
How your generous gift will help
Your financial support could help take Professor Peter's research to the next step: to test the approach in large randomised and controlled clinical studies and ultimately, use laser near-infrared light via an intracoronary catheter.
You have the opportunity today to help advance heart care dramatically in Australia and change the lives of 400,000 Australians currently known to be at high risk of heart attack.
Heart attack is all too common, but it does not have to be. We have the scientific talent, the vision and the early-stage technology; but we need your financial support to help us reach our goal sooner.
Please send your tax-deductible donation before 30 June 2018 and help Professor Peter halve the number of heart attacks in Australia by 2030.
Your incredible support is helping to make a difference to everyday people like Sue. Thank you.