Join Team to Beat and take on a mighty fitness challenge
Join Team to Beat and you can help save thousands of young lives being lost to sudden cardiac death.
Support a Team to Beat member by making a donation today.
Take on an IRONMAN
Our partnership with IRONMAN in Australia will see us feature at these events:
Take on one of the Baker Institute IRONMAN challenges and help save lives!
Team members who commit to fundraising $1000 for 70.3 events and $1500 for IRONMAN events will receive free entry into the race and a free 2XU triathlon suit (total value $750).
The funds raised will support lifesaving medical research into understanding sudden cardiac death in Australia. All team members are supported along the way with coaching and fundraising tips. We'll also be giving away some awesome rewards to our champion fundraisers. It's so easy!
If you've got any further questions about Team to Beat or if you've already registered directly with IRONMAN, please contact Esther Cullity on (03) 8532 1106 or esther.cullity@baker.edu.au.
---
Hike For Health
Have you always wanted to take on a challenge for a worthy cause? The Baker Institute's Hike for Health could be your next adventure. On this incredible adventure, you'll trek through the Australian outback on one of the most spectacular walking trails — the legendary Larapinta Trail. Regarded as one of Australia's premier walking tracks, it winds from the old Alice Springs Telegraph Station toward the peak of Mount Sonder. To top it off, you'll also be raising funds for the Baker Institute to help Australians live healthier for longer.
Enduring for better health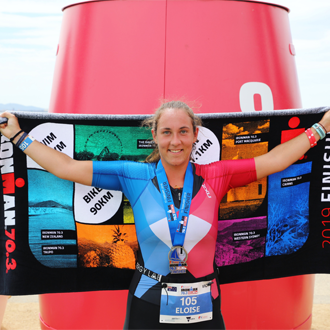 23 year old Eloise Thompson was young, fit and otherwise healthy but experienced a heart scare after collapsing twice at the Gold Coast Marathon.
"As a cardiac nurse I've seen too many families torn apart by heart disease. I wanted my friends and loved ones to know that a heart attack can strike at any age, even if you're fighting fit. And just one young life lost, is a life too many" Eloise Thompson.
Eloise had her heart checked by expert cardiologists at the Baker Institute to rule out any question marks. After getting the all clear, Eloise made her triathlon debut at the 2019 IRONMAN 70.3 Geelong, competing in the Team to Beat and helping to raise over $50,000 for lifesaving heart research.