Melbourne researchers, including those at the Baker Institute, have identified an internal 'sensor' that helps fight obesity by instructing cells to burn their fat stores.
In the study, researchers showed a protein called NLRP1 is switched on when increased dietary energy (food) intake triggers the cell to become 'unstable'. Activating the protein sets off a chain of events that instructs cells to use up their energy or fat stores to prevent excess fat accumulating.
The research, led by Dr Seth Masters from Walter and Eliza Hall Institute and Dr Andrew Murphy and Dr Michael Kraakman from the Baker Institute, with obesity expert Professor Mark Febbraio from the Garvan Institute, was published in the January 2016 edition of Cell Metabolism.
This research, funded by the National Health and Medical Research Council, veski (Victorian Endowment for Science, Knowledge and Innovation), the Diabetes Australia Research Trust and the Victorian Government Operational Infrastructure Support Scheme, could play a major role in the fight against obesity and metabolic diseases, including type 2 diabetes.
IL-18 production from the NLRP1 inflammasome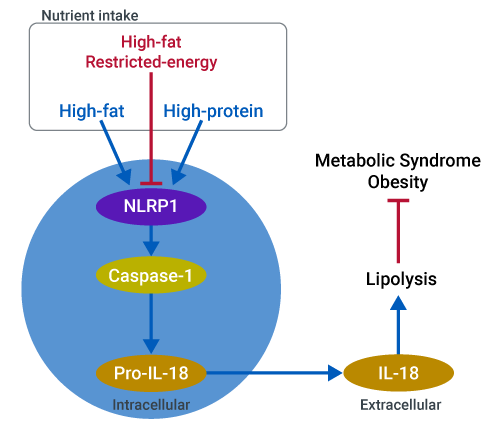 Murphy et al. Cell Metabolism 2016