The Sitting Time and Chronic Disease Prevention Centre for Research Excellence (CRE)
Sedentary time — too much sitting, as distinct from too little exercise — is now being recognised as a population-wide, ubiquitous health risk, manifested in children, adults and older people.
The CRE research program brought together national and international research teams to build new interdisciplinary research capacities and to integrate and advance knowledge on sitting time and chronic disease prevention across three key themes:
Cross-talk between the three CRE research teams and themes provides the basis for multidisciplinary training, research innovation, and knowledge generation and translation (as illustrated below).
The research is conducted across key life stages (children, youth, adults, older adults) and population-health settings.
This capacity building, along with the subsequent unique body of evidence to be developed, and our research translation initiatives will add novel elements to guidelines, practice, and policy for chronic disease prevention.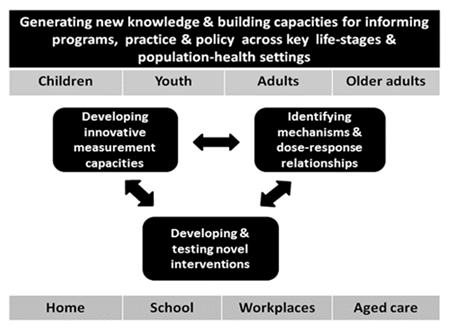 Governance structure