24 February 2017
Tell a new mum to add "healthy lifestyle makeover" to her ever-growing to-do-list, and it will be met with the same enthusiasm as an overflowing basket of ironing.
But give her the tools to make easy and sustainable changes to improve the health of her whole family, and allow her to bring her kids to these lessons, and most women will grab the chance.
That's the winning formula Baker Heart and Diabetes Institute researchers have created through their new Women After Gestational Diabetes program.
It is aiming to spare women and their children the future health risks that come after a mother develops diabetes while pregnant.
These women have a 50 per cent increased risk of developing type 2 diabetes in the next 5–10 years, and their babies are more likely to need assistance during and after labour.
There is also emerging evidence that these children are at risk of being overweight and having diabetes in their lifetime.
More than 50 women have taken part in the five-week-program, run at maternal child and health centres in Melbourne's inner east, which covers health eating, exercise and motivation.
Baker [Institute] dietitian Rebecca Stiegler said it was introduced as a pilot program last year for 50 women, but after such a high attendance rate the State Government will fund the service for another two years to get through up to another 200 new mothers.
"New mother are not necessarily a group who is putting their own health first. But they're often very motivated to promote a health lifestyle to their family," Ms Stiegler said. "It's about giving them the tools to do that."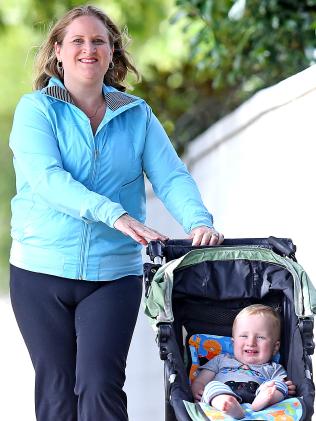 For Malvern East mother-of-two Chantal McCrae, it was the practical healthy eating substitutes — such as switching white rice for basmati, and swapping a portion of meat for beans — that she found most useful after having gestational diabetes while pregnant with son Harvey.
"I didn't even notice the changes, and neither did my husband," Ms McCrae said.
"I'm probably 10kg lighter than I was before I got pregnant. I now look forward to reducing my risk quite substantially over the long term without putting too much effort into it."
"If anything makes you conscious about your longevity, it's having children."