04 May 2022
Institute news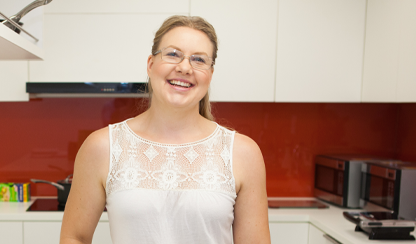 The Baker Heart and Diabetes Institute's aim is a simple one — to help all Australians live healthier for longer — and that includes its own staff members.
To support Baker Institute and Alfred Research Alliance staff to get their own health and wellbeing back on track after an intense couple of Covid-affected years, the Institute is offering the State Government-funded Life! Program to its staff.
"The past couple of years have been intense for many of us, filled with long, stressful days, and leaving little time for self-care," Baker Institute dietitan Rebecca Stiegler says. "To help us get our own health and wellbeing back on track, we are offering the Life! Program to our staff."
The free program, coordinated by Diabetes Victoria, aims to help us to set personal goals to improve our eating habits, increase activity and manage stress.
"As part of the program, one of our dietitians will deliver an initial online one-on-one session with each participant, followed by seven virtual group seminars over a 12-month period," Rebecca says.
"It's a really valuable program that we are offering to everyone. Hosting the seminars online means that it is accessible to all staff and students, no matter where you are located across the Institute."
Each group will have a maximum of 10 participants, allowing for personalised advice.
"We've seen firsthand how overwhelming the past couple of years have been for anyone involved in the health industry," Rebecca says. "And in many cases, it's only now that things are easing off that people can start thinking more about their own health. This program can help us to set personal goals and learn practical healthy eating, physical activity, stress management and sleep strategies.
"It's a great way to assist you to look after you."