26 August 2021
Institute news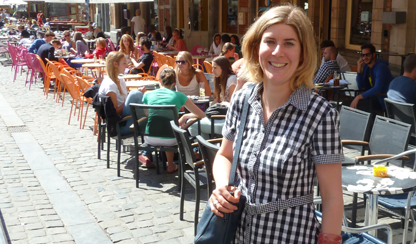 Baker Institute research nurse Kristel Janssens never intended for her Australian adventure — from native Belgium — to last longer than a year. But 11 years down the track she's still here, working in the Institute's Sports Cardiology lab to build understanding of how exercise affects the heart.
What brought you from Belgium to Australia?
I was looking for a change and different experience to my life in Brussels, and after looking at the map, deciding between Canada and Australia for my overseas adventure, I ended up choosing Australia. In July 2009 I arrived in Brisbane and started working as a nurse in the cardiovascular suites in one of the private hospitals, then in 2011 I came to Melbourne to work at St Vincent's Hospital. This wasn't my first experience working internationally though. After I finished my nursing studies in 2001, I worked for one year in Norway, and from 2004 to 2005 I worked for Doctors without Borders (MSF) in the Democratic Republic of Congo, Chad and Kenya. Those previous experiences of working overseas definitely took the pressure off my initial travel to Australia.
How did you become interested in sports cardiology?
I met Andre La Gerche (Head of the Baker Institute's Sport Cardiology lab) at St Vincent's Hospital after he returned from Belgium, where he had worked at the same University Hospital where I completed my nursing training. Andre would present research results at hospital meetings and I was fascinated by his research and the MRI images of the huge athletic hearts. When he mentioned he was looking for someone to join his team, I didn't have to think twice as it was a fantastic opportunity to combine my passion for cardiology, research and sports. On a typical day, I meet lovely participants from all different backgrounds, from elite professional athletes to the very sick, and I guide them through a whole range of tests. I'm lucky to also be involved with the analysis of their test results and I'm very excited about a project I'm working on looking at blood pressure response in athletes during exercise and exercise hypertension.
What do you find most rewarding about your work?
I'm most fulfilled when a study participant expresses that they've enjoyed their experience and feel they've made a meaningful contribution to our research. Every day in my role brings a new experience. Being involved in research and being part of multiple collaborations continues to challenge me professionally and personally. My nursing knowledge and skills still come in handy every day, and I really enjoy the fact that I'm continuously learning as a researcher and that I'm part of a wonderful team.
How have you stayed positive during the pandemic?
The hardest part of the pandemic is not being able to see my family in Belgium but otherwise I've been very lucky. The love of my husband keeps me sane and we both enjoy running and riding our bikes. Our 5km radius still allows us to run and ride in beautiful places. During the winter season I run the Athletics Victoria cross country season as part of the APS (Associated Public Schools) team but unfortunately a lot of our races have been cancelled. I've always been disciplined with my exercise training so I've continued to keep that structure in my life, which also helps.
What has it been like to watch the pandemic's impact on Belgium from afar?
It's been so interesting to see how different countries around the world are dealing with the pandemic. I remember when Belgium had the highest death rate globally, this reflected the statistics treating all elderly deaths as a COVID related death. It was very stressful to see many of my nursing colleagues that work in ICU becoming increasingly exhausted and a couple of them even contracted COVID. Fortunately my family was okay and I wasn't too worried. We have had many FaceTime conversations around lockdowns, cases and vaccination. My entire family was vaccinated before I was, and recently even my nieces who are older than 12 got vaccinated.
Stay on top of the latest findings with our newsletter
Subscribe