13 November 2022
Media release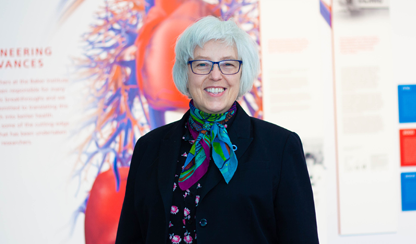 We're delighted to announce that Endocrinologist and Physician Researcher, Professor Alicia Jenkins, will join the Institute in January 2023 to head up a new Diabetes and Vascular Medicine laboratory.
Professor Jenkins has a strong interest in type 1 and type 2 diabetes and their associated complications, and in vascular medicine, biomarkers, and technology use in healthcare.
Most recently, she was Academic Lead of Diabetes at the NHMRC Clinical Trials Centre in Sydney where she was responsible for the design and conduct of major national and international clinical studies in diabetes and a biomarkers laboratory. She also held the role of Professor, Diabetes and Vascular Medicine at The University of Sydney since 2013.
Professor Jenkins trained in medicine and in research in Australia, the UK, Ireland, and the USA. After 13 years at the University of Melbourne and St Vincent's Hospital, Melbourne, she joined The University of Sydney in 2012. She continues type 1 diabetes clinical work at St. Vincent's Hospital and at The University of Melbourne and will commence clinical work in Baker-linked clinics in 2023.
For 23 years, she has led a multidisciplinary team in Australia, with collaborative cardiometabolic research in the USA, Europe, UK and the Western Pacific Region. Her interests relate to the prediction and prevention and underlying mechanisms of diabetes complications and vascular disease and in the use of frontier technologies in diabetes care, including insulin pumps, continuous glucose monitors and digital health.
Professor Jenkins holds a number of grants from national and international funding bodies. She has also won several major awards including the 2019 Kellion award from the Australian Diabetes Society for her outstanding contribution to diabetes research and clinical care, an Australian Museum Eureka Award for medical research and the 2022 RACP International Medal for her work in disadvantaged countries.
Her clinical practice relates predominantly to type 1 diabetes care from youth to old age, including insulin pump and glucose sensor use and is complementary to her research and training.
She sits on many committees forming guidelines and position statements for clinical practice. She has served on the Australian Diabetes Council and now represents Australia on the International Diabetes Federation and is president of Insulin for Life Global as well as the Australian arm. She is the Australian Cardiovascular Alliance (ACvA) Precision Medicine Flagship co-Director (with the Baker Institute's Professor Peter Meikle) and has key roles with the Australian Centre for Accelerating Diabetes Innovations (ACADI), with the Diabetes Technology Research Group (DTRG) and the JDRF Global Centre of Excellence in Diabetes Research.
Professor Jenkins is also recognised for her teaching, mentorship and advocacy work.
She founded the Global Elective Medical Student program in 2018 which links clinical schools, initially in Hong Kong, Australia, Europe, and the USA, and aims to enhance the training of doctors by providing electives that include both clinical skills training and clinical research or community engagement.
She is also an active collaborator of the 'Life for a Child' Program and founded an advocacy group which advocates, including working with the UN Special Rapporteur for the Right to Health, for equitable access to diabetes care.
Professor Jenkins says key projects that she will be focused on include the FAME-1 trial of fenofibrate in diabetic retinopathy in adults with type 1 diabetes, insulin pump and sensor studies and trials related to the cardiometabolic health of Indigenous Australians.
Baker Institute Director, Professor Tom Marwick says we have a long, proud history of diabetes research and we are delighted to have another senior diabetes researcher join our Institute and help drive this pioneering work.
"Professor Jenkins has an excellent scientific track record, extensive collaborations and has developed initiatives spanning teaching to advocacy which align with the Institute's strong focus on research translation and health equity."
---
For further information or to organise interviews please contact:
Tracey Ellis
T: 03 8532 1514
M: 0433 781 972
E: tracey.ellis@baker.edu.au