27 May 2022
Media release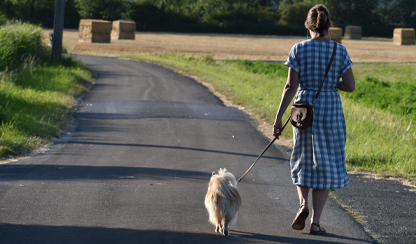 A Melbourne study has examined hundreds of days of Fitbit data from before and during the pandemic to show restrictions had a serious impact on the physical activity levels of working adults with type 2 diabetes.
Study author, Christian Brakenridge from the Baker Institute's Physical Activity laboratory says this is particularly concerning given the important role physical activity plays in effectively managing the chronic condition.
While many studies rely on self-reported data, this study provides definitive evidence of activity rates over 2447 days. It also highlights how an accessible device like a Fitbit has the potential to support improvements in health, particularly in at-risk groups.
Data was taken from 11 study participants (desk workers aged 35–65 years) over several months in the lead up to, and during, Melbourne's first lockdown in 2020.
Recorded steps reduced by an average of 1500 per day and sedentary time increased by 51 minutes per day.
"Together, these behavioural changes over such a long period of time would be expected to have a negative impact on glycaemic control and diabetes management," Christian says.
The results — published this week in the open access journal, JMIR Diabetes — align with other research observations that people who are overweight or obese are more likely to have their physical activity levels adversely affected by the pandemic.
"While our research focused on a small group of people, each participant was intensively studied. This is one of very few studies to track physical activity for hundreds of days per person, and the first to look at people with diabetes," Christian says.
"Our data gave us a comprehensive understanding of activity before and during pandemic restrictions, allowing us to accurately compare and assess the impact of lockdowns."
Christian says the biggest issue was the pandemic's impact on incidental exercise, as people were required to stay home and only leave for essential activities. He says: "Potential contributing factors include minimising movement to reduce the chance of community transmission, anxiety leaving the house and a reduction in physically active commuting".
Christian says it is important people return to pre-pandemic levels of incidental exercise to avoid the substantial negative health impact of excessive sedentary behaviour, which is particularly exacerbated in people with type 2 diabetes.
"The good news is that even light and incidental breaks in sitting time, standing up and taking a short walk, are demonstrated to provide real health benefits," Christian says.
"Every little bit of physical activity helps, with recent research suggesting that just an extra 1000 steps per day can reduce the risk of developing diabetes.
"Maintaining good physical activity levels is also associated with a lower susceptibility to viral infections such as COVID-19, improved vaccine efficacy, and reduced odds of hospitalisation with severe COVID-19 outcomes."
Christian says the study also demonstrates how devices like Fitbits could be used in clinical management in the future. "Consumer-grade continuous measurement devices have already been used to prompt behaviour change and improve glycaemic control, and there may be added benefit by combining their use with continuous glucose monitors," he says.
Study participants were taken from the intervention arm of the Institute's OPTIMISE Your Health study. This study, which began in 2019, aims to help desk workers with type 2 diabetes sit less and move more, for improved disease management.
---
For further information or to organise interviews please contact:
Tracey Ellis
T: 03 8532 1514
M: 0433 781 972
E: tracey.ellis@baker.edu.au