19 May 2023
Media release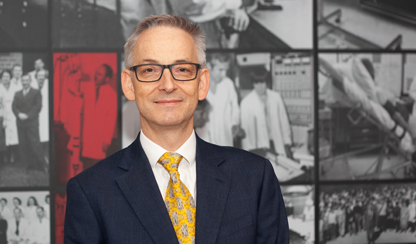 Respected cardiovascular researcher and cardiologist Professor John Greenwood MBChB, PhD has been appointed Director of the Baker Heart and Diabetes Institute.
Professor Greenwood is currently Director of the Cardiovascular Clinical Research Facility at Leeds Teaching Hospitals NHS Trust in the United Kingdom and President of the British Cardiovascular Society.
His appointment follows Professor Tom Marwick's decision to step down as Director of the Baker Institute to concentrate on clinical practice and his ongoing research after nearly eight years leading the Institute.
Baker Institute Chairman Peter Scott said, "After an extensive global search, I am delighted that John has accepted our offer to lead the Baker Institute. John is an internationally recognised leader in cardiovascular research and will bring new energy and perspectives to the Institute's research program, building on Tom's proud legacy of success.
Cardiovascular disease and diabetes are among Australia's most pressing public health challenges and John has devoted his career to confronting these insidious diseases. He will be a very welcome addition to the Baker Institute's team of outstanding scientists. Their expertise and commitment in laboratory, clinical and population health research provide a firm foundation for continuing progress in disease prevention and treatment.
On behalf the board, I would also like to acknowledge Tom's leadership and immense achievements at the Baker Institute. During his tenure the Institute's scientific contribution and reputation has been enhanced across the spectrum of basic and translational research.
Under his leadership the Institute has developed a strong personalised medicine and bioinformatics programme which has a powerful global presence through a partnership with the University of Cambridge. The Institute has also developed strong partnerships with the University of Melbourne, Monash University, La Trobe University and Deakin University which have provided opportunities for increased scientific collaboration. Tom has also overseen a successful $100 million fundraising campaign and, with the support of the Baker Foundation, has championed diversity at the Institute through the provision of five-year Alice Baker and Eleanor Shaw Gender Equity Fellowships for our leading female scientists. We wish Tom the very best for the future."
Professor Greenwood said, "I am thrilled to be joining the Baker Institute, which is recognised around the world as a leader in cardiovascular and diabetes research. I look forward to working with the Institute's research team and its partners to continue the fight against heart disease and diabetes."
Professor Greenwood and his family will relocate to Melbourne and he is expected to start as Director in the fourth quarter of this year.
---
For further information or to organise interviews please contact:
Tracey Ellis
T: 03 8532 1514
M: 0433 781 972
E: tracey.ellis@baker.edu.au