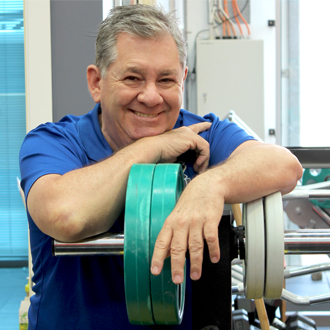 Everyday more than 45 men are diagnosed with prostate cancer in Australia.
Androgen Deprivation Therapy (ADT) is an useful anti-cancer therapy that reduces prostate cancer mortality. However, ADT may increase the risk of cardiovascular disease.
The purpose of this trial is to evaluate the impact of ADT on cardiovascular structure and function, as well as the impact of exercise training during ADT.
Enquire about participating in this trial
Who can participate?
Men 40 years or older.
Diagnosed with prostate cancer.
Scheduled or within one-month of receiving ADT.
Benefits of participation
Comprehensive cardiovascular screening (including echocardiography, cardiac magnetic resonance imaging and cardiopulmonary exercise test).
Free access to one of four fitness centres around Melbourne (Fitzroy, Coburg, Hawthorn and Caulfield).
Supervision from an accredited exercise physiologist who specialises in prostate cancer.


3-month best practice exercise intervention
individualised exercise plan
small group exercise sessions.
If you are interested in participating or would like further information, please contact:
Ashley Bigaran
T 03 8532 1108
E Ashley.Bigaran@baker.edu.au