The Human Autonomic Neurophysiology Platform, run by Professor Vaughan Macefield, offers an unparalleled resource in Australia by undertaking invasive microelectrode recordings of sympathetic outflow to muscle or skin from human peripheral nerves.
Vaughan Macefield is recognised as the leading proponent of sympathetic microneurography throughout the world, as attested to by the number of invited reviews and book chapters he has written and workshops he has conducted. He developed the single-unit recording approach in the early '90s and developed the methodology for combining recordings of sympathetic nerve activity with functional magnetic resonance imaging (fMRI) of the brain in the mid '00s. Most recently, in a world first, the laboratory developed the means of performing invasive microelectrode recordings from the human vagus nerve, via a microelectrode inserted into the neck under ultrasound guidance.
In addition to undertaking fundamental invasive and non-invasive studies into the operation of the sympathetic and parasympathetic nerve systems in health and disease, the laboratory offers a platform for running clinical trials that investigate the pathophysiology of cardiovascular disease.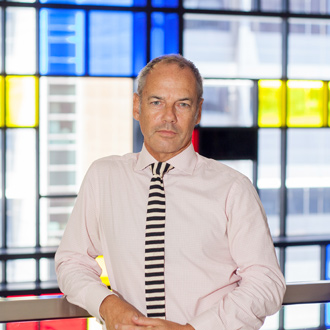 For more information, contact:
Vaughan Macefield
Head, Human Autonomic Neurophysiology
E: vaughan.macefield@baker.edu.au
Our expertise
The platform is currently performing recordings of muscle sympathetic nerve activity (MSNA) in five of our clinical trials.
In addition to these clinical trials, we have an ongoing collaboration with the Haematopoiesis and Leukocyte Biology laboratory to assess the effects of long-lasting muscle pain, induced by a 40-min intramuscular infusion of hypertonic saline, on MSNA and inflammatory markers in the blood. With the Preclinical Disease and Prevention unit we are examining the effects of poor quality sleep on cardiovascular risk, by correlating actigraphy with MSNA and ambulatory blood pressure.
Through collaborations with other institutes, we are examining the effects of epilepsy on cardiovascular risk and undertaking fMRI studies on patients with chronic migraine. We have also established a collaboration to identify cardiovascular control in chronic obstructive pulmonary disease.
Ours is the only laboratory in Australia with the capacity to run clinical trials involving invasive microelectrode recordings, other than that of my other two laboratories in Sydney. Each of the current trials we are running is either Government or Industry funded.
As a platform, we provide tilt-table testing, continuous non-invasive blood pressure measurement, measurement of skin blood flow through laser doppler flowmetry and photoplethysmography, measurement of sweat release via changes in skin conductance, as well as direct recordings of sympathetic nerve activity to muscle or skin.
Location
Baker Heart and Diabetes Institute
75 Commercial Road, Melbourne
Victoria 3004, Australia