Dr Bianca Bernardo
PhD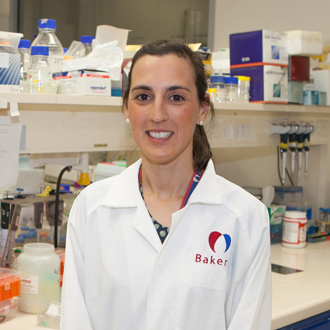 Dr Bianca Bernardo is a Group Leader and an Alice Baker and Eleanor Shaw Fellow at the Baker Heart and Diabetes Institute, Australia. Dr Bernardo is also an Honorary Senior Fellow in the Department of Paediatrics, University of Melbourne, Australia. She studied at Monash University, graduating with an Honours degree of Bachelor of Science (Biomedical). She received her PhD from the University of Melbourne in 2009, where she studied key genetic and biological mechanisms of skeletal development and disease. Since then, she has broadened her research interest into studying physiological cardiac hypertrophy, which focuses on targeting novel components of the phosphoinositide 3-kinase (PI3K) pathway as a therapeutic strategy to treat heart failure. Specifically, she is interested in examining the therapeutic potential of PI3K-regulated microRNAs in a setting of heart disease. With recent advances in RNA-based drugs and a microRNA based drug having successfully completed phase 2 clinical trial, this represents an exciting field of research. Her work demonstrated that when a microRNA-based drug was administered to mice with pre-existing pathological hypertrophy and cardiac dysfunction (due to pressure overload), this was able to attenuate pathological remodelling and improve cardiac function (Bernardo et al. PNAS 2012; 109:17615–20). This represented the first study to inhibit an entire microRNA seed family in a setting of established cardiac disease. More recently, she was the first to examine the effect of silencing microRNA-34a in the female heart, and identified sex- and treatment-dependent regulation of microRNAs in the diseased heart, highlighting the importance of understanding the effect of miRNA-based therapies in heart disease settings in males and females (Bernardo et al. J Physiol 2016; 594:5959–74). Currently, Bianca is focusing on understanding and targeting (using small molecule approaches) a key anti-fibrotic pathway called the bone morphogenetic protein (BMP) pathway as a novel therapy for heart failure.
For her microRNA research, she has be awarded numerous prizes, most notably the 2012 Ralph Reader Prize (Basic Science) at the Cardiac Society of Australia and New Zealand Conference, the International Society of Heart Research and Australian Physiological Society Postdoctoral Publication Awards for the best original research paper by an early postdoctoral fellow (2013), and the Best Poster Presentation and the highest HOPE Award (selected by Nobel Laureate Prof. Kobayashi) for her poster presentation at the 7th HOPE meeting with Nobel Laureates (Japan, 2015).
Out of the lab, Bianca is an avid road cyclist and takes part in cycling fundraising events to promote physical activity and exercise for heart health.