Associate Professor Bing Hui Wang
BSc, Xiamen University | MSc, Fujian Normal University | PhD, La Trobe University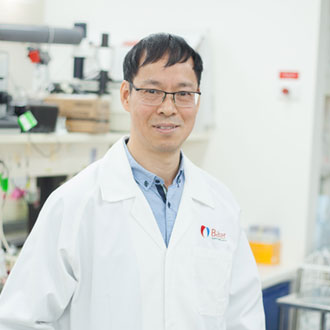 Associate Professor Bing Wang received his PhD from La Trobe University in 1996.
Most recently, Bing was the Director of the Public Health Laboratory and Associate Professor at the Monash Centre of Cardiovascular Research and Education in Therapeutics at Monash University but his career has seen him work in both academic research in Australia and China, and commercial research in the biotechnology industry in Melbourne.
Bing has expertise in molecular cell biology, biomarkers and protein biochemistry, drug design and development, medicinal chemistry and pharmacology. He has a major interest in aiming to identify novel therapeutic targets for drug development through understanding the mechanisms underlying cardiovascular and related diseases. His current research areas include pharmacology of cardiovascular diseases (CVDs), novel therapeutics for CVDs, drug discovery and development, and biomarker discovery and development. In particular, Bing's research is focused on the signalling mechanisms of inflammatory cytokines and mediators/biomarkers in cardiovascular and renal diseases including heart failure and chronic kidney diseases.
He has received funding from NHMRC, National Heart Fund (NHF) and Monash University for a number of research projects and new drug development. He has published more than 70 papers in major international journals including Circulation; European Heart J.; Circ Heart Failure; Circ Res.; Am J. Physiol. Heart and Circ.; Intl J Cardiol.; Cardiovasc Ther. Cardiovasc Res. and PLoS One.