Professor Dmitri Sviridov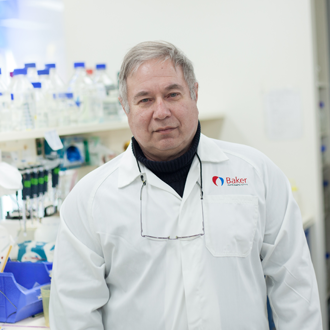 Professor Dmitri Sviridov, M.D, PhD, graduated from the Pirogov Russian National Medical Research University and has been working in the field of atherosclerosis and lipid research for over 40 years. From 1978 to 1992, he worked in the National Cardiology Research Centre in Moscow, first as a PhD student and then as a Research Officer and a Senior Research Fellow in charge of the laboratory.
During these years his research was focused on interaction of platelets with the vessel wall and cholesterol and lipoprotein metabolism in small intestine. In 1993, he joined the Baker Medical Research Institute and moved to Australia. From 1993, Dmitri worked as a Senior Research Officer in the Laboratory of Lipoproteins and Atherosclerosis. In 1999, he was appointed a NHMRC Senior Research Fellow and in 2002 he became head of the Laboratory of Lipoproteins and Atherosclerosis at the Baker Heart Research Institute. Dmitri is a Professor in the Department of Biochemistry and Molecular Biology, School of Biomedical Science, Monash University and Department of Immunology, Microbiology and Tropical Medicine, George Washington University, Washington, DC, USA.
Dmitri is an author of 206 papers in peer-reviewed scientific journals and books and a co-inventor in 9 international patents. He has made many presentations, chaired sessions and presented numerous invited lectures at major international meetings. Since 1999, Dmitri has been the recipient of over A$31 million in research grants, including 10 from NIH, 12 from NHMRC and 24 from other organisations (National Heart Foundation, Swiss National Foundation, DA, etc). He is a member of the International and Australian Atherosclerosis Societies, Australian Vascular Biology Society and American Heart Association. In 2002–06 and 2015–2016, Dmitri was a Director of the Australian Atherosclerosis Society and was involved in organising meetings of the Australian Atherosclerosis and Vascular Biology Societies as well as Symposium on HDL, a Satellite to the International Symposium on Atherosclerosis.
Dmitri's research at the Baker Heart and Diabetes Institute is focused on molecular, cellular and clinical aspects of lipid and lipoprotein metabolism in relation to infectious, metabolic and cardiovascular diseases. It involves studying of reverse cholesterol transport, intracellular cholesterol trafficking and cell biology of lipid rafts. He is also involved in a number of collaborative projects in Australia as well as internationally (George Washington University, UCSD, NHLBI/NIH).