Associate Professor Erin Howden
BHSc/BioMedSci(Hons) | PhD, University of Queensland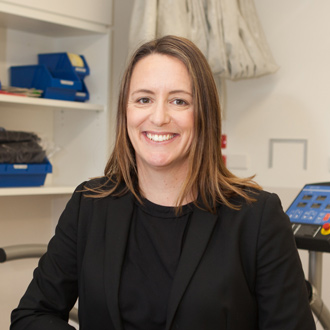 Erin is the head of the Cardiometabolic Health and Exercise Physiology lab, co-lead of the Physical Activity Program and also the co-chair of Research Training and Education Committee at the Baker Heart and Diabetes Institute. She is an honorary senior research fellow in the Department of Cardiometabolic Medicine at the University of Melbourne and School of Public Health and Preventative Medicine at Monash University. After receiving her PhD from the University of Queensland in 2012, Erin completed 4 years of postdoctoral training at the Institute for Exercise and Environmental Medicine a world renowned institute for study of human clinical and integrative physiology. In 2020, Erin was awarded a prestigious Heart Foundation Future Leader Fellowship and was recognised by the Baker Institute as an Emerging Leader through the award of the Sir Laurence Muir Prize.
Erin's background is in clinical exercise physiology with further training in cardiovascular imaging and invasive haemodynamics. Her program of research seeks to enhance the prevention and treatment of cardiometabolic disease in at risk groups through developing innovative multidisciplinary approaches, with a particular focus on "exercise as medicine". The main impact of more effective therapeutic strategies will be lower health care expenditure, improved quality of life and reduced morbidity and lower mortality associated with cardiovascular disease. Her research combines 'state-of-the-art' cardiac and vascular imaging approaches, exercise testing and classic hemodynamic techniques and big data/bioinformatics approaches to gain a deeper understanding of human integrative physiology. Erin's diverse research program aims to improve outcomes for those at risk of heart failure, to do this her team investigates the mechanisms of exercise intolerance in at risk individuals and efficacy of novel treatment strategies.
Erin's most seminal work to date showed that exercise training is an effective countermeasure to prevent the cardiovascular effects of sedentary aging, which was published in Circulation in 2018. She has also recently led the development of a tool to characterise exercise limitations via a novel approach which phenotypes the oxygen pathway which was also published in Circulation in 2021.