Dr Hamid Hosseini
MD, Tehran University | MBMS | PhD, Monash University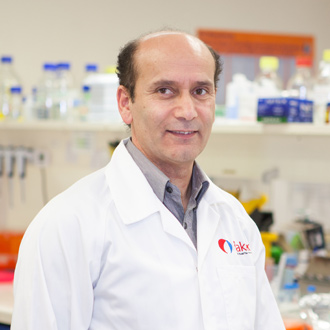 Dr Hamid Hosseini was awarded his PhD in 2015 from Monash University works as Postdoctoral Research Officer in the Atherothrombosis and Vascular Biology laboratory at the Baker Heart and Diabetes Institute.
His current studies focus mainly on the cellular mechanisms and role of platelets, coagulation and inflammation in atherosclerosis, as well as the mechanisms leading to the rupture of atherosclerotic plaques precipitating MI or stroke. In coagulation cascade (clotting), lots of factors are involved, one of them is factor XII (FXII), one of the main important elements of clothing with dabble functions in promotion of clothing and inflammation.
Dr Hosseini's is exploring the mechanism and impact of blocking activation of FXII in development of atherosclerosis and stabilises rupture-prone atherosclerotic plaques using a new mouse model of atherosclerotic plaque instability that mimics human pathology most closely developed by my colleague Dr Yung-Chih Chen. This indicates a central role of FXII in mediating atherogenesis and plaque instability. Inhibition of FXIIa with 3F7 has anti-inflammatory effects leading to an altered cytokine and chemokine milieu that results prevention of stroke and MI. Antibody-based blockade of FXIIa is a highly attractive approach to find a new medication for patients with atherosclerosis given the potential to inhibit atherogenesis, stabilise vulnerable plaques and produce potent anti-thrombotic effects without impeding haemostasis.
Given the ability of this innovation with the lack of adverse effects associated with current medications, will help us to prevent the main cause of death globally.