Dr Chengxue Helena Qin
BSc(Hons) | PhD, University of Melbourne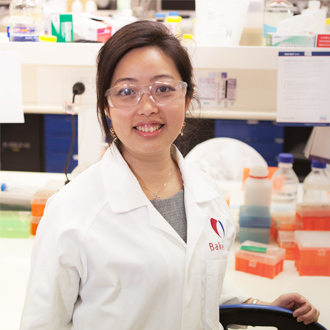 Dr Chengxue (Helena) Qin is a Baker Fellow and Group Leader in at Baker Heart and Diabetes Institute, with adjunct appointments (Monash Institute of Pharmaceutical Science and Univ Melb).
A prominent early-mid career scientist. Qin has extensive experience in design and evaluation of novel drugs in relevant preclinical models of cardiovascular disease (CVD). Her translational research continues to develop novel strategies to treat various CVD and diabetic complications. Dr Qin was awarded her PhD in Oct 2010 in the Faculty of Medicine (University of Melbourne). Her unique dual PhD training in CVD pharmacology and medicinal chemistry encompassed design, synthesis and profiling of an array of novel flavonol derivatives for treatment of heart attack (this group of compounds is completing phase-II clinical trial).
Her current research focuses on formyl peptide receptors, a group of GPCR involved in the regulation and resolution of inflammation. Dr Qin provided the first evidence that selectively engaging beneficial pathways at this receptor has significant therapeutic potential. Her group is developing novel drugs on this patented technology, in several therapeutic areas. Dr Qin's achievements have also been recognised by numerous highly prestigious awards including BPS/ASCEPT Outstanding Young Investigator Award (2015); CSANZ Ralph Reader Prize (Basic Science, 2016), Best Oral ECS presentation at ISHR (2017) and Baker Institute Fellow (2018–2022).