Dr Smriti Krishna
MSc | MPhil | PhD | Grad Certificate in Education, Deakin University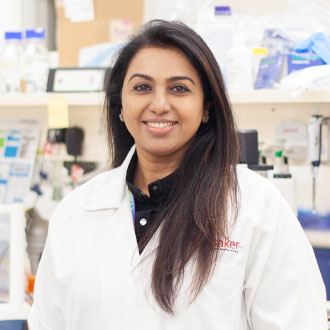 Dr Smriti Krishna's research focuses on the translation of preclinical research (laboratory experiments) into clinical research (human studies) to improve the lives of patients with cardiovascular disease. Her research has examined the mechanisms that lead to macrovascular and microvascular complications in people living with diabetes, as well as atherosclerosis and atherothorombosis. She has also explored novel regenerative therapies for the management of chronic disease such as abdominal aortic aneurysm, critical limb ischemia and diabetic foot ulcer.
Efficient translation of preclinical findings to clinical patient outcomes depends on clinically relevant disease models. Dr Krishna's research has led to the development of multiple animal models of cardiovascular disease, which aid in the identification of novel pathways with therapeutic potential in humans. She has strong ties with industry partners and her work has been published in many leading general and specialist journals including, Atherosclerosis Thrombosis and Vascular Biology, Scientific Report, Clinical Sciences and American Journal of Pathology.
Dr Krishna completed her MPhil and PhD in India and then moved to the Vascular Biology Unit at James Cook University to take up an international postdoctoral position looking into genetics and epigenetic alterations in cardiovascular disease. She recently joined the Atherothombosis and Vascular Biology laboratory at the Baker Institute and is excited to continue working on research that benefits those living with diabetes and cardiovascular disease.
Dr Krishna has a strong interest in research for the benefit of the wider community and has been involved in mentoring, lecturing and collaborating with immigrant communities, culturally and linguistically diverse (CALD) communities, and the Townsville Hospital Consumer Council. She is a strong advocate for women in STEM and an active member of the Australasian Mental Health Higher Education Committee, highlighting the importance of positive mental health for higher degree research students. She is also a representative of Australian Academy of Sciences ECMR Forum and a representative for researchers based in regional Australia. Dr Krishna is eligible to supervise HDR students at the University of Melbourne and James Cook University.