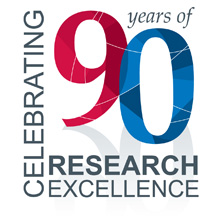 The Baker Institute is celebrating over 90 years of research excellence
Imagine if we could develop a novel therapy to help prevent and treat obesity
The ability for some people to lose weight, particularly those genetically pre-disposed to weight gain, can simply be unachievable. Coupled with this, rates of overweight and obesity are continuing to rise in Australia. Almost two in three Australian adults are overweight or obese, and one in four children are overweight or obese. Obesity is now a national health epidemic.
This is why the work of Senior Postdoctoral Research Officer in the Metabolic and Vascular Physiology Laboratory, Dr Andrew Carey, is so important. His main research goal is to develop strategies to treat and prevent obesity. For several years, Andrew has been studying brown adipose tissue, or brown fat, in humans to see if activation of this tissue in obese humans is possible and the therapeutic potential of this approach as one underpinning novel anti-obesity strategies.
Brown adipose tissue is located mainly within the neck and shoulders and along the spine. Its primary function is to generate body heat by burning energy when exposed to cold temperatures and scientists believe it may help in the treatment of obesity.
Andrew and his colleagues recently demonstrated for the first time that a single, high oral dose of ephedrine can activate brown adipose tissue in the majority of young lean males. They also established that this activation — as is also the case for cold exposure — is defective in obese adults.
Harnessing the capacity of brown adipose tissue to consume energy was first proposed as a potential target to control obesity nearly 40 years ago. The plausibility of this approach was, however, questioned due to the prevailing view that this tissue was either not present or not functional in adult humans. However, recent definitive identification of functional brown adipose tissue in adult humans as well as a number of important advances in the understanding of brown adipose tissue biology has re-ignited interest in this area as an anti-obesity target.
Andrew and his colleagues are now working to find ways of 'browning' white fat to aide metabolism and ways to switch on brown fat cells using a pharmacological agent. He says while brown fat may not be the magic cure it offers potential as an adjunct to other obesity treatments and may yet lead to a novel therapy to help treat and prevent this national health epidemic.