07 December 2022
Institute news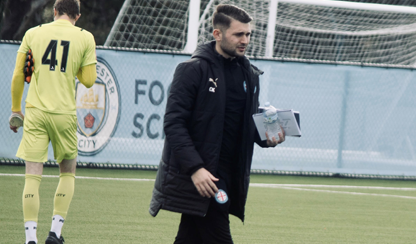 While many of us may have experienced sleep deprivation during exam times or as PhD deadlines loomed, every four years there's a significant rise in lack of sleep across the globe for those who don't live in the same time zone as the football World Cup hosts. Just ask Crisdion Krstevski. We did when we went Fast Five with our soccer-obsessed PhD student and Melbourne City Under 21 Head Coach.
What or who inspired you to get into science?
I have always been told to follow my passions in life rather than looking for a 'job', and two things I've always loved are science and football (soccer). I wasn't sure for a little while what it was exactly about science I enjoyed, however, now I'm in the later stages of my PhD, I have begun to appreciate that it's about being able to attempt experiments or things that have never been done before, to question the ideas that were once accepted. This part of science is equally challenging, exciting, and ground-breaking. My family has always been encouraging of my endeavours to learn more and educate myself, and although at times it's difficult to explain to them exactly what I do, it's always uplifting to see how proud they are.
Tell us about what you do at the Baker Institute?
I am a PhD student in my final year in the Cardiac Cellular Systems laboratory, under the guidance and supervision of A/Prof Alex Pinto and Prof Julie McMullen. My PhD is principally focused on better understanding the cellular and molecular changes of cardiac remodelling, by using high-throughput technology such as single-cell transcriptomics. A key aspect of my project is to better understand the development of cardiac fibrosis, which is a manifestation of many cardiovascular diseases.
Involvement in the Baker Institute student committee was also encouraged to me very early on in my time here. Baker Institute PhD alumni Dr Charles Cohen encouraged me to be an active member of the committee to expand my scientific network on-site, which has really helped me learn more and understand that collaboration starts from the connections we form as students. It has also given me the opportunity to meet industry partners and organise events such as our networking dinner, which was a great success early this year. This is an experience that really counts in giving us as students a voice in the Institute and is something I highly value.
Tell us how you spend your time away from work?
In my spare time away from my PhD? Well, most of that time is spent on just over 7000 square metres of grass, lined with two penalty areas and a halfway line. Of course, I'm referring to a football pitch, where I spend most of my nights away from the lab and at least one day on the weekend. My passion away from science lies in coaching football (soccer).
How does your role at work help with your role in soccer, and how do your skills from soccer help with your work?
Coaching and my general involvement in sport at a competitive level has taught me a lot — most importantly that what you can achieve in a team is far greater than what you can alone. I think this is highly applicable when talking about science. Often, some of the best work that comes out of labs is where a team of people combine a set of unique skillsets to answer a question of interest. In football, it's about how you can exploit opposition using your players' expertise. However, in both contexts it's important that there is direction towards a common goal. In football, that's a championship and in science, well maybe it's that published Nature paper that every lab wants!
Between work and coaching, you must be very time poor, but no doubt you'll have been tuning in to the World Cup.
How does this World Cup period look for you?
Despite the lack of time between my PhD and commitments in football, I have managed to squeeze the essential World Cup games into my schedule. Most importantly, I've been watching Australia's games. I managed to get down to Federation Square for the Tunisia game to watch only our third-ever World Cup Finals victory. To see people from all corners of Melbourne come together and unite was pure joy. I think the short answer to this question is if anyone sees me around the Institute looking like I'm lacking some sleep, it's most likely due to watching a game at some strange hour of the morning!