05 May 2022
Institute news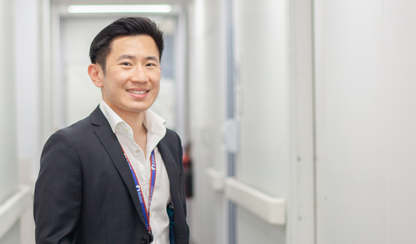 As a child, Dr David Chieng wanted to choose a career that could make a difference to people's lives. David, a cardiologist and Baker Heart and Diabetes Institute PhD student in the Clinical Electrophysiology laboratory, is now living his dream, working towards improving outcomes for patients with atrial fibrillation, the most common arrhythmia worldwide.
This week is Heart Week, the ideal time to recognise the important research that David is undertaking to help make a difference to people's lives everywhere.
What inspired you to pursue a career in science? Growing up I had always wanted to pursue a career where I can make a difference in people's lives. I decided to study medicine and have not looked back since. I chose cardiology as my specialty as I found the heart to be such a fascinating and complex part of human anatomy. Furthermore, a lot more work is needed to stop cardiovascular disease from being the number one killer in Australia. I also enjoy the varied nature of my work which involves clinical interaction with patients and procedural work including catheter-based cardiac ablations and cardiac device implantations. I am also inspired to undertake academic work as I enjoy researching novel aspects of cardiac care and being at the forefront of medical knowledge.

What does your research involve?
I am currently a final year PhD candidate under the supervision of Professor Peter Kistler, who is the head of clinical electrophysiology research at the Baker Institute. My PhD is focused on improving outcomes in patients who undergo catheter-based ablation for atrial fibrillation (AF). AF is the most common arrhythmia worldwide. My main research is an international randomised study (CAPLA) based at the Baker Institute/Alfred Hospital. My other studies include researching the effects of different ablation power settings on procedural and patient outcomes, and whether AF ablation can improve outcomes in patients with 'stiffened heart' syndrome. We also recently worked with the Baker Institute's Bioinformatics Department to study the effects of regular coffee consumption on cardiovascular health, which generated significant print and television media interest, including a feature segment on the USA Today morning show on NBC.

What does an average day look like for you?
I would normally start my day around 7am, when I would do a ward round to check on patients who had undergone cardiac procedures the day prior. I would then head off to the cardiac catheterisation laboratory to begin my procedural list, which involves both catheter-based ablations and cardiac device implantations. Once a week I work in a clinic where I consult on patients with cardiac arrhythmia issues. On days when I am not in the laboratory, I work on my research and attend departmental meetings to discuss the clinical care of our patients. These meetings are invaluable as educational/learning opportunities for me. I would normally finish work around 6pm and try to squeeze in some time for exercise. Most evenings would be spent working on my research, before heading off to bed around midnight.

What are some of your favourite things to do outside of work?
I enjoy spending time outside of work with my loved ones, running and gym sessions. I always look forward to my runs at Albert Park in the evenings, where the sunset views across the lake are breathtaking. I also strive to be as active as possible in my local church community. I am involved in the worship band as an instrumentalist and co-lead our young adults' fellowship group.

Where is your favourite place in the world?
That's a tough one. I haven't done much travelling outside of Australia, and the absence of international travel over the past two years has not helped! As a West Australian, I have really enjoyed my time in Melbourne — the people, food, and culture here are amazing. Outside of Australia, I would say my favourite place to visit is Singapore — a short trip from Australia, safe, full of attractions, and it has incredible food from many different cultures.