15 June 2022
Institute news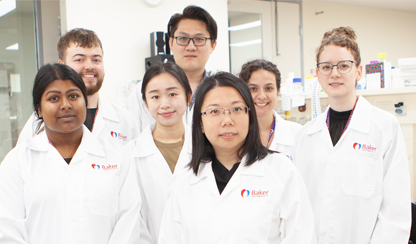 A team of Baker Heart and Diabetes Institute researchers has been awarded a Victorian mRNA Research Acceleration Grant for research into the development of targeted mRNA technology to combat cardiovascular diseases.
Head of the Institute's Molecular Imaging and Theranostics lab, Associate Professor Xiaowei Wang is leading the innovative research project that aims to develop messenger-RNA therapeutics for cardiovascular diseases with unmet therapeutic needs, including atherosclerosis.
Over the past decade or so, mRNA has emerged as a promising next-generation technology for creating a new class of medications to treat a number of diseases and conditions, including cancers. However, the successful use of mRNA to develop COVID-19 vaccines, and the speed at which they were developed, has shone a spotlight on mRNA technology and its potential for use across other applications.
"This is a very exciting and innovative area of research," A/Prof Wang said. "mRNA holds significant promise because it combats disease in an entirely different way than most drugs on the market. mRNAs can be delivered to the cells with coded personalised instructions to make specific proteins, some of which can cause or prevent disease, with the added benefit of reduced side effects."
A/Prof Wang's research involves the delivery of specific mRNA therapy directly to cells at the site of cardiovascular disease, prompting the production of proteins that have anti-inflammatory and anti-thrombotic properties. The hope is that there will be a reduction in inflammation and thrombosis at the site, preventing disease progression in the targeted cardiovascular diseases.
"We are grateful to the Victorian Government for its investment in our research through the mRNA Research Acceleration Grant," A/Prof Wang says. "We also hope to establish an mRNA therapeutic centre at the Baker Institute so we can build capacity to conduct this type of research locally."
Victorian Minister for Innovation, Medical Research and the Digital Economy Jaala Pulford announced that A/Prof Wang's project was one of 12 first-round recipients to share in almost $2 million from the mRNA Victorian Research Acceleration Fund. The mRNA grants are part of the Labor Government's $50 million commitment to establish a world-class mRNA industry in Victoria.