14 November 2020
Institute news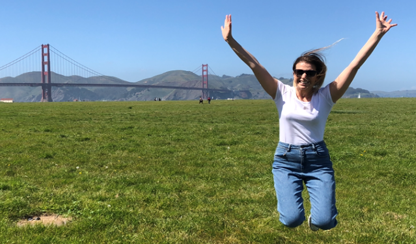 This year, World Diabetes Day is promoting the important role of nurses in the prevention and management of diabetes. At the Baker Institute, we have a fantastic team of nurses working in diabetes research and care.
We'd like to introduce you to Christina Charalambous, one of our diabetes nurse educators. Christina worked in private practice nursing for a few years before deciding return to university to complete a graduate certificate in diabetes education and management. Since then she has found her perfect fit at the Baker Institute, working with our clients to help them reach their health goals.
Why did you choose to specialise in diabetes nursing?
When I was working in private practice, I use to see so many clients with diabetes and I saw firsthand how lifestyle choices could have a profound impact on one's quality of life. My interest for the specialty grew from there.
What does an average day look like for you?
Generally it's filled with one or two meetings followed by patient consults. The consults can vary from type 1 diabetes, type 2 diabetes, and gestational diabetes management, which keeps it interesting.
What do you like best about your job?
Helping patients make lifestyle changes, and seeing great results in their diabetes management months later is very satisfying.
What are your favourite things to do outside of work?
Pre-COVID it was definitely travelling. I keep myself active through Pilates, marathons and interval training. I come from a rather large family so those catch ups are always sure to be a good time too!
What do you commonly see as the biggest challenge to diabetes management?
The lack of early intervention due to the condition being 'silent' in this phase.
What do you wish people could better understand about diabetes?
Blood glucose levels are not only impacted by 'sweet' food. It's important to identify other sources of carbohydrates, including low GI and high GI foods, as well as portion control. We have fact sheets on these topics available online. Keeping yourself active is really important for glucose control too. A home exercise guide for people living with diabetes is available on the Institute's Keep it moving page.
What is one of the best things people with diabetes can do to help manage their condition?
Engaging with our Education Services team to see one of our diabetes nurse educators and a dietitian for tailored interventions is very helpful. There is so much help available in the community to assist people with diabetes, so please reach out!
Find out more about the services offered by our diabetes nurse education team.
Stay on top of the latest findings with our newsletter
Subscribe