23 September 2021
Institute news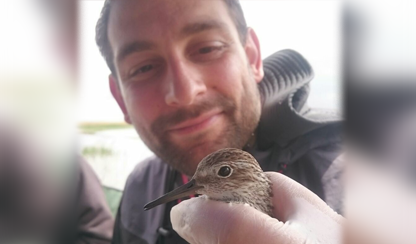 Dr Guillaume Méric is a microbiologist and bioinformatician, originally from France. After a PhD and postdocs on microbial ecology, evolution and pathogen genomics in the UK, he joined the Cambridge Baker Systems Genomics Initiative in 2018 as a senior research officer. He is fascinated by the complexity of our association with the microbes that live within us as part of our commensal microbiota, and how they are linked to health and development.
What brought you to Australia?
The Systems Genomics lab at the Baker Institute has a world-class reputation for being involved in the analyses of some of the world's best clinical and large human population cohort datasets, with the expertise of its members being particularly broad. At the time of moving, I had a decade of experience on microbial population genomics and ecology. When the opportunity came to join Professor Michael Inouye's lab to work on the human microbiome in a clinical setting, I accepted immediately as studying microbial communities in the gut had been a research field I've always wanted to contribute to. At the time, Oceania was the last continent I hadn't yet travelled to, so it was also a very exciting decision on the personal level.
How does a microbiologist get interested in bioinformatics?
I obtained my BSc and MSc at the University of Lyon-1 (UCBL/INSA-Lyon) in France, which has a very famous microbial ecology research department. As such, many of my lecturers and professors in microbiology had this research interest of quantitative ecology, genetics, and ecological theory. This definitely fostered my ever-growing interest for the diversity and the evolution of microbes and their interactions with their hosts. Most ways to study ecology and evolution involve statistics and/or sequence-based analysis of some kind, so microbiology and bioinformatics have always been more or less naturally mixed in my research.
What do you find most rewarding about your work?
I could, of course, say that the most rewarding feeling is when you finally manage to publish a long-standing project, and you know you can finally turn that page and move on! But as I've become a bit more senior now, I am increasingly enjoying mentoring and supervising students. I have been supervising a few PhD students from their start in the lab until their graduation, which really gives a feeling of accomplishment, sometimes more than papers! More generally, I really enjoy sharing science with talented people from all around the globe, whether at conferences or in the lab. Science is truly international and most of my friends and colleagues from the last 15 years come from everywhere on the planet. This is so enriching and I am eternally grateful to be in that setting.
Have you learnt any new skills or hobbies during the pandemic?
It has been hard for most of us to find a new balance, especially during lockdowns. I don't think I have managed to learn new hobbies during the pandemic, but I now value more than ever practicing my existing ones whenever possible. I am an outdoors and wildlife enthusiast, especially keen on bird-watching. Coming from Europe, Australia is a wonderful and amazing place in the world for its avian diversity and in the "before times", I enjoyed a lot travelling across the continent to discover new environments and their birds. Closer to home, I also regularly volunteer in a group that monitors shorebirds in Victoria, by catching them, tagging/banding them and giving them a health check before releasing them (the photo attached is of me holding a sharp-tailed sandpiper, Calidris acuminata). I look forward to a time when I'll be able to resume these activities, and keep exploring Australia.
What are some of the most beautiful towns or cities that you have discovered working in Wales, the UK and Australia and how do they compare to those in your birth country?
Coming from the south-west of France, I routinely long for the distant view of the Pyrénées mountain range on the horizon on clear days, or of the Alps, where I lived for a while as a child. But there is beauty everywhere we care to look for it. In Wales, I lived in a smaller town (Swansea) located in a breathtaking natural environment, right on the sea, subjected to gigantic tides, surrounded by cliffs, green pastures and a lot of wildlife. While in England, I was in Bath, a hilly Roman thermal city with a wonderful history and centuries-old buildings. The Australian continent has been wonderful to explore, offering a broad range of climates and landscapes that we rarely see in Europe. If I have to pick a favourite place, I would (with difficultly) pick Ningaloo Coast in Western Australia. It is where I first learnt to scuba dive a few years ago, and is one of the most beautiful place I've ever been so far.
Stay on top of the latest findings with our newsletter
Subscribe