21 April 2021
Institute news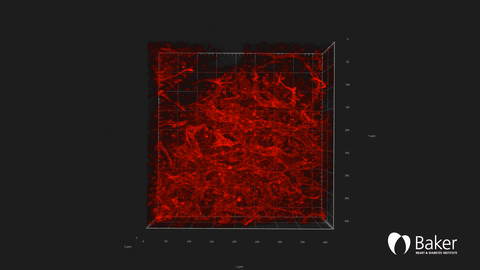 A new $1.5 million multiphoton microscopy platform is helping Baker Institute scientists with groundbreaking projects to advance precision medicine, develop smarter clot busting drugs, and prevent damage after a heart attack.
The state-of-the-art equipment allows researchers to look at living mouse models to track disease processes and novel treatments in real time.
Microscopy facility manager Dr Adam Parslow said the new platform was a huge success story to come out of the challenges of the COVID-19 pandemic.
"Parts have been brought in from all over the world, a global effort that was difficult due to COVID. Engineers from Europe and Asia would normally complete the installation on-site.
Instead they used Zoom to provide guidance to local engineers to complete installation and commission the system," he said.
The equipment has been set up to effectively 'float on air', protecting it from any building vibrations.
"Because scientists are looking at details one-six hundredth the size of a human hair, it's critical to filter out even the tiniest of vibrations that might blur the image," Dr Parslow said.
"The problem with traditional imaging is that if you want to look deep into organs the light becomes too diffracted, meaning tissue has to be removed to be examined. Whereas these multiphoton lasers use infra-red wavelengths to allow penetration deep within living samples."
The Institute's new multiphoton set-up is a unique system, believed to be the only one like it in the world. Large amounts of computing power are required to gain the most information from the datasets it can generate, and an analysis computer workstation allows researchers to produce state of the art 3D imaging.
The set-up is an open platform available for use by scientists at the Baker Institute as well as collaborators and clients.
For clinician researchers like Dr James McFadyen, working in the Baker Institute's Atherothrombosis and Vascular Biologylaboratory, the equipment gives unparalleled insights into cardiovascular disease processes in live models.
The microscope helps him look closely at the dangerous blood clots that cause heart attacks and strokes, and then test new therapies to treat them.
"This allows us to watch how drugs are working in real-time," Dr McFadyen said.
"As we move towards precision medicine — where drugs are directed much more closely so they can be used in smaller doses and with reduced side-effects — we need to be targeting specific cells in the body. This detailed imaging enables us to show our drugs are getting to the right place and working as they should."
Stay on top of the latest findings with our newsletter
Subscribe