09 August 2021
Institute news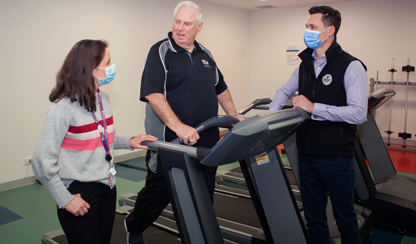 Three years ago, at the age of 72, Ian Watson knew he had to make some changes in his life. Ian was severely overweight and had diabetes, which put him at risk of heart disease and other chronic conditions.
In fact, his doctor told him he was at high risk of a stroke or heart attack, and he would be lucky to make it to his next birthday.
He attended the exercise physiology sessions run by Deakin University at the Baker Heart and Diabetes Institute. At this stage, Ian says, he was at the stage of just giving up. "I couldn't walk up the street without getting out of breath," he says.
But he was encouraged by the team to continue the hard work with an exercise and diet program, and they recommended he take up walking regularly. These changes are recommended to people like Ian to try and prevent the onset of diseases like heart disease, and other related conditions, or to prevent serious complications developing.
Baker Institute dietitians and diabetes and heart clinicians work alongside other health professionals like Deakin University exercise physiologists to provide a one-stop shop for people like Ian.
Ian says he initially thought it was laughable that someone like him could start a walking group but the encouragement kept coming. Ian took the advice, exploring the streets around his suburb of Altona Meadows in Melbourne's West.
Keen to join a walking group, and being a Western Bulldogs fan, Ian contacted the club's Sons of the West program to see if they had one.
The answer was no, but the club encouraged Ian to start a Heart Foundation walking group in his area. So he started two. The Mighty West Walkers in Newport, and Meadows Walkers in Altona Meadows. At least one group, which started with two members in 2019, has now grown to more than 95 and strides out together five times a week.
Ian is the organiser. He enjoys the social interaction with other walking enthusiasts, along with the health benefits. Since he started walking regularly, Ian has lost an astounding 35 kilograms, and he says his groups have become the biggest in the West.
A former manager and buyer for iconic retail stores like Georges on Collins, Ian says he appreciates the need to keep moving.
He was recently awarded a Golden Shoe award by the Heart Foundation for courage and commitment. There's a lot of negative news but Ian wants to share his story to inspire others about what can be achieved with some positivity and hard work.
Stay on top of the latest findings with our newsletter
Subscribe