24 February 2021
Media release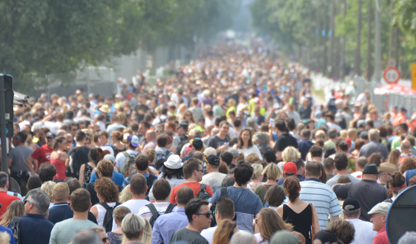 Annual rates of new cases of adults diagnosed with type 2 diabetes is stable or falling in many high-income countries, according to a new global study
Australian researchers who led the study say this is reason for cautious optimism
A global analysis of contemporary data reporting diabetes incidence over time has found the number of adults diagnosed annually with type 2 diabetes has been stable or falling in most high-income countries across Australia, Europe, the US, and Asia during the past decade.
The results, which span 21 countries and include more than 22 million diabetes diagnoses, provide a different perspective to that from the many reports that outline a rising total number of people living with diabetes in over 80% of the countries examined in this study.
Lead researchers at the Baker Heart and Diabetes Institute say that preventive strategies, public health education and awareness campaigns may have contributed to this flattening of rates of new cases in high-income countries, providing some assurance that global efforts to curb the diabetes epidemic might have been effective during the past decade.
Head of Diabetes and Population Health at the Baker Institute, Professor Dianna Magliano says this analysis of one of the largest consortium of data is encouraging, and highlights the need to continue to invest in large-scale monitoring and prevention. She says the study also highlights the ability of researchers to harness big data sets to identify trends in healthcare.
This study, published today in the Lancet Diabetes and Endocrinology journal and funded by the Centers for Disease Control and Prevention in the US and Diabetes Australia, is the first to systematically focus on diabetes incidence — that is, the number of people who develop type 2 diabetes each year.
Until now, understanding the epidemic of diabetes has focused mainly on the total number of people who have type 2 diabetes at any given time — the prevalence of diabetes. While prevalence is a useful measure, incidence can be much more informative, especially for understanding the changing risk status in a population.
Of the 24, mostly 'whole of population'-based data sources examined from 19 high-income and two middle-income countries, 23 data sources contained data from 2010 onwards, among which 19 had a downward or stable trend, with an annual estimated change in incidence ranging from -1.1% to -10.8%. Among the four data sources with an increasing trend from 2010 onwards, the annual estimated change ranged from 0.9% to 5.6%.
The Australian data from the National Diabetes Services Scheme includes more than 850,000 incident diabetes cases over a 13-year period.
Professor Magliano says there could be several reasons for the plateau or decline in diabetes incidence during the past decade in many high-income countries including Australia.
She says: "We may be starting to reap the benefits of type 2 diabetes prevention activities, including increased awareness, education and risk factor modification"."We have seen improvements in diabetes screening, the addition of health education programs in schools and workplaces, and changes to the physical environment such as the introduction of bike tracks and exercise parks."
Professor Magliano says strategies to tackle diabetes such as the reformulation of foods including the removal of trans fats from manufactured food in the United States and the reduction in intake of sugar sweetened-beverages in high-income countries may also have had an impact.
"Other factors may have also influenced reported diabetes incidence. For example, none of the studies screened for undiagnosed diabetes. It is possible that one factor is a reduction in the number of people being screened for diabetes, although in the data we had access to there is no direct evidence that this has happened," Professor Magliano says.
However, Professor Magliano says the plateau or decline does not align with obesity rates, with OECD rates continuing to show projected increases in obesity in the coming decade.
"These results provide important information in shaping health care planning and policy, including where best to address public health and clinical efforts," Professor Magliano says.
President of the Australian Diabetes Society, Associate Professor Stephen Stranks, says: "There are some important and encouraging findings in this report but there are still hundreds of millions of people with diabetes worldwide, and a long way to go in getting the epidemic under control".
---
Notes to editors
The countries included in this review include: Australia, Denmark, United States, France, Hungary, United Kingdom, Canada, Latvia, Lithuania, Netherlands, Russia, Singapore, Spain, Taiwan, Israel, South Korea, Scotland, Norway, Hong Kong, Italy and Ukraine.
What is the difference between incidence and prevalence?
Incidence: The number of new cases of a condition or disease that develop over a period of time, among those who are initially free of the condition or disease.
Prevalence: The proportion of people within a population who have a certain disease or condition at a particular point in time.
---
For further information or to organise interviews please contact:
Tracey Ellis
T: 03 8532 1514
M: 0433 781 972
E: tracey.ellis@baker.edu.au