20 October 2021
Media release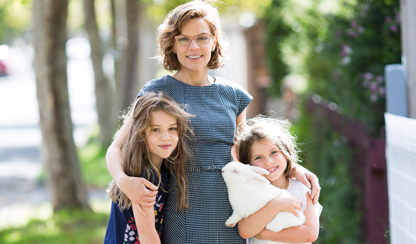 For a second time, the Baker Heart and Diabetes Institute is offering a prestigious five-year Alice Baker and Eleanor Shaw Gender Equity Fellowship for a senior female researcher, with the position now being advertised in top scientific journal, Nature.
This follows the appointment of Associate Professor Morag Young, who was awarded a five-year Alice Baker and Eleanor Shaw Gender Equity Fellowship in 2019.
These types of senior five-year female-only fellowships are still rare in medical research institutes nationally despite many people seeing them as essential.
This senior research appointment at the level of lab head aims to increase the number of senior female scientists at the Institute, and forms part of a range of initiatives to champion senior women in science. These include practical strategies to address problems associated with career disruption, caring roles and lack of uptake of parental leave by fathers.
The data about the lack of senior women in science is very clear. Of the Science, Technology, Engineering and Maths (STEM) qualified population in Australia, women comprised only 17 per cent in 2016, while representation of women at senior levels was as low at 14.5 per cent in 20161.
In terms of the Institute's research staff, women represented 50% or more of all staff and students between 2013 and 2015, and while women were well represented at Research Assistant level comprising more than 70% of staff, they were far less represented at the level of Laboratory Head at 31% in 20152. So significant work is underway to address this issue.
The Alice Baker and Eleanor Shaw Gender Equity Fellowships have been a critical cornerstone of the Baker Institute's Gender Equity and Diversity Program for several years thanks to our long-time supporters, the Baker Foundation. The Baker Institute is also pleased to contribute funds to be able to offer this unique five-year fellowship.
This fellowship is named in honour of two women who were instrumental in the establishment of the Baker Institute in Melbourne in 1926. Alice Baker and her sister, Eleanor Shaw were known for their philanthropic activity supporting the Baker Institute and other charities.
Baker Institute Director, Professor Tom Marwick said: "I think it is critical that we take steps to address barriers facing senior women in Australian science, and I am proud that the Institute can offer this unique Fellowship".
"There is a lot of talk about gender equity and diversity in science but it is important to back this with action. We desperately need to provide structural support like this or risk losing talented female scientists which in turn detracts from the quality of our science," Professor Marwick said.
"We hope that by taking a lead in this area, we can drive institutional change in other scientific organisations."
Gender Equity and Diversity Committee Co-chairs, Associate Professor Morag Young and Professor Vaughan Macefield who head a large and committed group of staff working to help drive change say: "We are seeing a groundswell of enthusiasm and action to improve significant disadvantage for all minority groups, including women," A/Prof. Young said.
"If we truly want to encourage more women to take up careers in science, to continue and to see it as viable career option, they need role models and peer to peer support."
In December 2018, the Baker Institute was recognised with a prestigious Science in Australia Gender Equity (SAGE) Athena SWAN Bronze award. The Bronze level, the first SAGE award to be made available in Australia, recognises the Institute's commitment and actions to champion change around gender equity and diversity.
The SAGE team said that their analysis of Bronze Award applications reveals that women-only fellowships like this are among pioneering examples of initiatives that provide security for women researchers to help establish their research careers.
References
Advancing Women in STEM 2019 Federal Department of Industry, Innovation and Science
SAGE Athena SWAN Bronze Application by Baker Heart and Diabetes Institute
---
For further information or to organise interviews please contact:
Tracey Ellis
T: 03 8532 1514
M: 0433 781 972
E: tracey.ellis@baker.edu.au