21 June 2021
Media release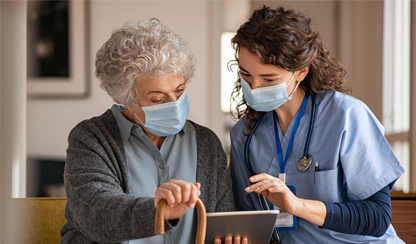 A major grant announced today will help the more than one million Australians with type 2 diabetes and up to 500,000 people who are estimated to have silent, undiagnosed diabetes.
Researchers from the Baker Heart and Diabetes Institute have secured a pivotal grant of $4.8 million to fill a very important gap in our understanding of diabetes complications.
The PREDICT study, funded over five years through the NHMRC 2020 Clinical Trials and Cohort Studies scheme, will look at the progression of diabetes complications in more than 3000 people with type 2 diabetes over the next decade.
The largely Victorian-based study, led by Professor Jonathan Shaw who heads the Baker Institute's Diabetes Complications Program along with Professor Dianna Magliano, will involve Northern Health and Western Health which have high community rates of type 2 diabetes, along with Monash University, Deakin University, the Centre for Eye Research Australia (CERA), UNSW and the University of Melbourne.
The study, which is already underway and will now be extended, will determine improved ways of identifying which people with diabetes will develop its devastating complications.
Professor Shaw, who works in one of the country's largest diabetes clinics, says this will allow targeting of intensive treatment for those who need it the most. It will also provide an important means of identifying potential new ways of treating and supporting people with type 2 diabetes.
Diabetes is recognised as the world's fastest growing chronic condition. The number of people with type 2 diabetes is growing in each country and in 2013, diabetes caused 1.5 million deaths globally.
"Most of the death, disability and financial cost associated with diabetes come from its complications," Professor Shaw says.
"Beyond the classical and more well-known complications like eye and kidney disease, we are now seeing a range of other complications such as heart failure, dementia and some types of cancer.
"A crucial tool in controlling complications of diabetes is the development of good quality risk predictors which facilitate allocation and targeting of appropriate therapies, as well as the development of new interventions," he says.
"Remarkably, there are very few studies anywhere in the world which are appropriately designed to understand complications of diabetes," Professor Shaw says.

The study will provide detailed phenotyping and bio-banking of samples from over 3000 people with type 2 diabetes. It will also utilise face-to-face follow-ups, and extensive data linkages to track a wide range of outcomes over time. Importantly, it will incorporate both biomedical and psychological/behavioural risk factors in a holistic approach to developing improved approaches to both estimate and reduce the risk of complications in type 2 diabetes.
This grant builds on decades of groundbreaking diabetes research carried out by the Baker Institute and the International Diabetes Institute, which merged with the Institute in 2008.
---
For further information or to organise interviews please contact:
Tracey Ellis
T: 03 8532 1514
M: 0433 781 972
E: tracey.ellis@baker.edu.au