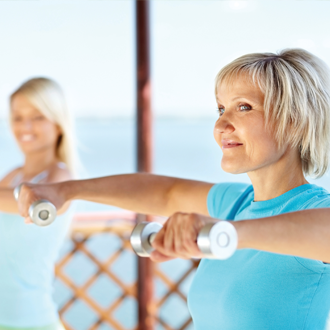 We are testing whether exercise training during chemotherapy is helpful in protecting heart function and maintaining exercise capacity.
The chemotherapy medications used for breast cancer treatment are important for achieving a cure but a potential side effect is that they can affect heart function and fitness.
Aerobic fitness is an important predictor of outcomes in people with certain forms of heart disease, and having a particularly low level of aerobic fitness (termed functional disability) appears very closely linked with the risk of developing heart failure.
We are interested in whether an exercise program conducted during and following anthracycline chemotherapy can reduce the risk of functional disability. We would also like to understand how the standard test used to measure your heart function during chemotherapy compares to state of the art MRI imaging of the heart in being able to predict your risk of becoming functionally disabled.
Enquire about participating in this trial
Who can participate?
Participants must be:
female
aged 40–75 years
diagnosed with breast cancer
scheduled for Anthracycline-based chemotherapy
capable of walking up 2 flights of stairs.
You will not be able to participate if you:
have significant heart problems
have any implanted metal device (e.g. prosthesis or pacemaker)
are unable to speak English
have significant cognitive impairment.
What is involved?
This study involves testing before and after chemotherapy, and again 12 months after starting chemotherapy. At each time point you will need to come in for two testing sessions.
If you are interested in participating or would like further information, please contact:
Kristel Janssens
T: +61 3 8532 1169
E: Kristel.Janssens@baker.edu.au