Dr Arpeeta Sharma
BSc(Hons), King's College London | MSc and PhD, University of British Columbia, Vancouver, Canada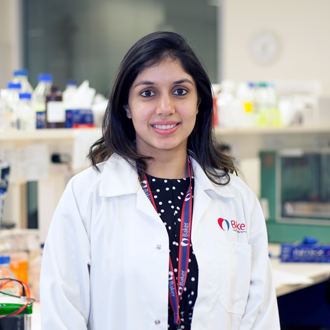 Dr Arpeeta Sharma is a Group Leader in the Cardiovascular Inflammation and Redox Biology laboratory at the Baker Heart and Diabetes Institute. She holds a BSc Hons (King's College, London) and a Masters and PhD in Pharmacology from University of British Columbia, Vancouver, Canada (2014).
Dr Sharma has a proven track record in cardiovascular biology, in particular diabetes associated cardiovascular complications, endothelial dysfunction and atherosclerosis. She has published 26 papers in the field of vascular biology, including first author publications in high impact factor journals such as the Journal of Clinical Investigation, Diabetes and Atherosclerosis, Thrombosis and Vascular Biology.
In her PhD, Dr Sharma characterised a peptide that could up-regulate the release of protective nitric oxide, the first specific peptide of its kind, which is now undergoing chemical screening in Phase I clinical trials. In 2015, Dr Sharma was awarded the NHMRC Peter Doherty Early Career Fellowship to explore key antioxidant and anti-inflammatory pathways involved in diabetes-induced vascular disease as well as therapeutics to limit cellular damage, without triggering detrimental side effects. In addition,
Dr Sharma is the recipient of several project grants, including a Diabetes Australia Research Program General Grant (2019) and a Bayer Pharmaceuticals grant for New Indications (2019–2020). Dr Sharma has a growing international presence and is the inaugural recipient of the CSANZ-ACvA-ESC Ambassador Fellowship (Cardiovascular Society of Australia and New Zealand, Australian Cardiovascular Alliance, European Society of Cardiology).