Dr David Greening
BSc(Hons) | PhD, University of Melbourne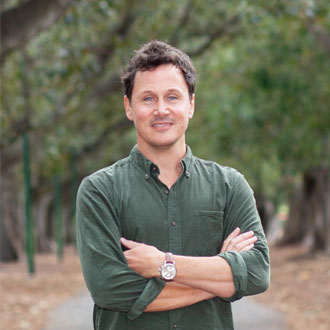 Dr David Greening is Head of Molecular Proteomics at the Baker Institute and Senior Research Fellow at La Trobe Institute for Molecular Science (LIMS) at La Trobe University.
He leads an innovative research program that seeks to identify mechanisms of cell communication through secreted factors and extracellular vesicles, and their capacity to regulate various pleiotropic biological processes of target cells through horizontal transfer of of protein, DNA and RNA species between cells. This capability highlights their potential as novel targets for disease intervention, drug development and therapeutic applications. Not surprisingly, extracellular vesicles have emerged as biomarkers for disease diagnosis and prognosis and are being constructed as targeted therapeutics.

Dr Greening undertook his PhD at The University of Melbourne and Ludwig Institute for Cancer Research, with further post-doctoral fellowship training at the Ludwig Institute for Cancer Research, Walter and Eliza Hall Institute of Medical Research, focused on proteomics, biomarker discovery and protein chemistry, and Institute for Systems Biology (USA) and LIMS on cell signalling biology, large-data bioinformatics, protein networks, and systems biology. Dr Greening was awarded the inaugural Stone Fellowship in Protein Chemistry (LIMS) and developed quantitative mass spectrometry approaches to understand the molecular drivers of extracellular vesicles and cell function to discover novel targets that can be transitioned to clinical therapeutics.
His current work is aimed at understanding the molecular function of secreted factors and extracellular vesicles, utilising protein chemistry tools and quantitative proteome analysis of the dynamics of normal physiology and disease-perturbed signalling networks associated with the tumour microenvironment, uterine biology and cardiometabolic disease.
His research has attracted national funding totalling $5.1M, including NHMRC and internal university and biotechnology partnership funding. He has published 64 papers in leading interdisciplinary journals including Nature Reviews Clinical Oncology, Molecular Cellular Proteomics, Proteomics, Journal of Clinical Investigation and Biology of Reproduction, lead editor on several textbooks on proteome biology and technology and featured in mainstream national media including The Age. Dr Greening's research has been translated into several commercial avenues internationally, where he has several provision patents as a co-inventor. Dr Greening is a recipient of several prestigious awards, including ROYAN International Research Award on Reproductive Biomedicine, International Protein Society Hans Neurath Outstanding Promise Award, Research Excellence Award (American Journal of Physiology), Web of Science High Citation award and Ludwig Institute for Cancer Research Excellence Medal.