Dr Qin Wang
PhD(with distinction), University of Oulu, Oulu, Finland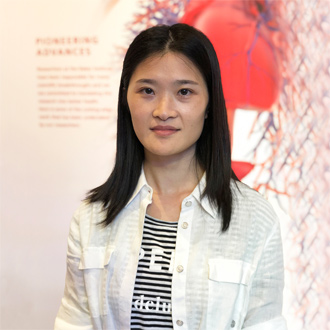 Qin joined the System Epidemiology laboratory as a Postdoctoral Researcher in early 2018. She was awarded a PhD in Public Health at the University of Oulu, Center for Life Course Health Research, Faculty of Medicine, Oulu, Finland in 2017. After her PhD, she continued to work as a Postdoctoral Fellow in the Computational Medicine Research Team at the University of Oulu.
Qin was award a 4-year grant by the Novo Nordisk Foundation for Epidemiological applications of quantitative serum metabolomics — integration of NMR metabolomics and MS lipidomics for the period of Jan 2018 – Dec 2021. The grant is a mobility grant to work at an international elite institution and covers both the salary and experimental research cost (in total 4,000,000 DKK, i.e. approximately 813,000 AUD).
Qin is interested in applying comprehensive metabolic phenotyping together with genetic data and electronic health records to advance the molecular understanding of cardiometabolic health and disease. The integration of NMR metabolomics (in collaboration with Professor Ala-Korpela and his team) and mass spectrometry lipidomics (in collaboration with Professor Meikle and his team) provides almost 1000 circulating metabolic measures, providing a great opportunity to study the detailed effects of risk factors on the circulating biomarkers and also the effects of circulating biomarkers to disease endpoints. The key aim of this project is to identify potential causal biomarkers via rigorous statistical approaches and combining multiple study designs (cross-sectional, longitudinal and Mendelian randomisation analyses) across multiple large-scale population cohorts. Identification of robust causal biomarkers and understanding their role in disease development would be essential for potential disease intervention and drug target discovery.