Dr Sarah Dash
BA, Psychology (University of British Columbia) | PhD (School of Medicine, Deakin University)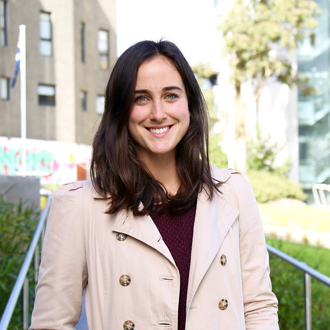 Sarah completed her PhD at the Food & Mood Centre at Deakin University. Sarah's PhD examined the link between diet and depression; specifically the biological pathways that may mediate this relationship. Sarah's background is in nutrition and psychology and her research interests include nutritional epidemiology, lifestyle and physical/mental health outcomes, prevention and public health.
The aim of her research is to further our understanding of relationships between lifestyle behaviours and physical and mental health, and to examine the biological pathways that may underpin these relationships in order to develop realistic strategies to help prevent or even to treat chronic disease, including mental disorders. Sarah is also interested in science translation and the communication of good-quality scientific evidence to guide individual and population dietary practices. She is an active member and administrator for the International Society for Nutritional Psychiatry Research.
Sarah has recently joined the Baker Institute, and will be examining sugar-sweetened beverage consumption, physical activity and adverse health outcomes.