Professor Vaughan G Macefield
BSc Hons I (UNSW) | PhD (UNSW) | DSc (UNSW)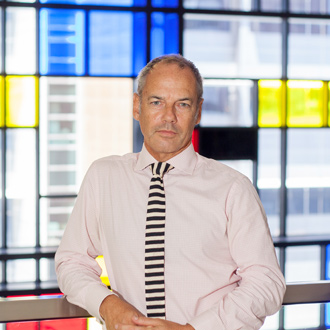 Professor Vaughan Macefield joined The Baker Heart and Diabetes Institute in January 2018 from Western Sydney University, where he was Foundation Chair in Integrative Physiology in the School of Medicine from 2006–16, and Mohammed Bin Rashid University of Medicine & Health Sciences in Dubai, where he served as Foundation Chair of Physiology from 2016–17.
He holds a conjoint Professorship in the School of Medical Sciences at UNSW, and a conjoint Senior Principal Research Fellowship at Neuroscience Research Australia (NeuRA), where he was based as an NHMRC Senior Research Fellow from 1994–2006. After completing his PhD in animal neurophysiology in 1986, he undertook advanced training in human neurophysiology in Sydney, Sweden and the US, before establishing his own laboratories in 1994. Since 1984 he has published over 200 papers and reviews and written 15 invited book chapters. He has received $11.8 million in research funding, and was awarded his DSc in 2017 for his work on the human sympathetic nervous system.
Professor Macefield specialises in recording from single nerve fibres via microelectrodes inserted into the peripheral nerves of awake human subjects (microneurography), and is best known for developing the methodology for recording the firing properties of single, type-identified, sympathetic neurones supplying muscle and skin and, most recently, for developing the methodology for recording muscle sympathetic nerve activity (MSNA) at the same time as performing functional magnetic resonance imaging (fMRI) of the brain. Using MSNA-coupled fMRI he has identified cortical and subcortical structures in the brain responsible for generating spontaneous bursts of MSNA in young and old healthy subjects, and for generating the increase in MSNA and blood pressure in patients with obstructive sleep apnoea.
His current NHMRC-supported work uses MSNA-coupled fMRI to examine the central substrates responsible for the high MSNA and blood pressure in renovascular hypertension, while another aims to identify the neural substrates responsible for the increases in MSNA and blood pressure during long-lasting muscle pain. At the Baker Institute he plans to identify the time-course of the functional and structural changes in the brain in heart failure, and their resolution during treatment, He will also be studying the roles of cortical and subcortical areas in the development of high blood pressure induced by cognitive or emotional stress, and examining the relationships between resting MSNA, blood pressure and regional cerebral blood flow and grey matter volume in hypertension.