Dr Yung-Chih (Ben) Chen
MBB | VMD | PhD (Monash University)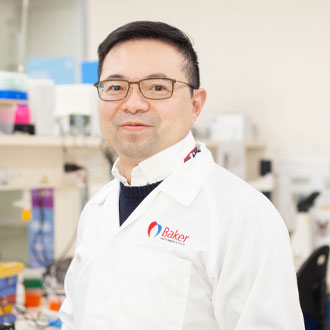 My scientific focus is on unstable plaques and plaque rupture thrombosis, and I am a veterinarian. What I discovered that blood shear stress causes plaque vulnerability, we designed a mouse model to simulate plaque rupture using a shear stress modifier (known as tandem stenosis). Plaque rupture was caused by low shear stress and high tensile stress in a specific vessel section. The model attracted national and international recognition rapidly. The second animal model, diabetic tandem stenosis, was subsequently introduced. The model reflects plaque instability in the setting of diabetes.
Diabetes enhanced plaque instability, resulting in intraplaque haemorrhage and plaque rupture. Treatment of atherosclerotic plaques with sodium glucose co-transporter 2 inhibitors (SGLT2i) yielded promising results: SGLT2i treatment significantly reduced plaque lipid content and, more importantly, enhanced plaque stability in the diabetic TS model.
My current research focuses on answering the following issue, for which I have developed two mouse models:
Regulatory network of diabetic induced plaque instability using the spacial transcriptomics in human carotid plaques.
Novel drug targets to treat diabetes and atherosclerosis.
Developed the third mouse model where plaque rupture in the mouse coronary plaques.