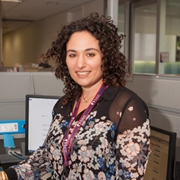 Scientist and mother of two, Dr Stephanie Yiallourou is researching how sleep patterns are linked to heart health to identify new targets for risk factor management.
It's a growing area of research with almost 40 per cent of Australians suffering from sleep problems. Inadequate sleep at night, that is not having the recommended duration between 7–9hrs, is associated with increased risk of hypertension and cardiovascular disease (CVD). Accordingly, sleep may be a key behavioural target for the improvement of CVD risk.
Stephanie hopes to identify how sleep patterns are linked to heart health to identify new targets for reducing the risk of cardiovascular disease.
"Improvement of poor sleep may represent a therapeutic target to reduce the risk of cardiovascular disease. This research has the potential to inform health service programs, particularly in vulnerable communities where there is health inequity — such as Indigenous Australians and individuals who live in regional communities," Stephanie says.
This research builds on the work she did early in her career investigating the role of impaired blood pressure control during sleep, looking for potential mechanisms leading to Sudden Infant Death Syndrome (SIDS).
The recipient of an Alice Baker and Eleanor Shaw Gender Equity Fellowship, Stephanie says the Fellowship has been pivotal in establishing herself as an independent researcher. "Not only has it provided support for my salary, I have also received funding for pilot studies which will inform the submission of an National Health and Medical Research grant in 2020," she says. Furthermore, the award included money for conference travel, which has enabled Stephanie to present at national and international conferences, including the European Sleep Research Society 2018 meeting.
Stephanie is now researching the effects of inadequate sleep on CVD risk in vulnerable populations such as Indigenous Australians and individuals living in regional communities. She had screened over 200 Indigenous adults and almost 300 individuals residing in regional communities for sleep problems. The Gender Equity Fellowship has also allowed her to begin pilot studies to understand the underlying link between inadequate sleep and risk of hypertension using state-of-the-art MRI imaging. With these data she hopes to inform future sleep intervention trials for the improvement of hypertension and CVD risk.