16 December 2020
Institute news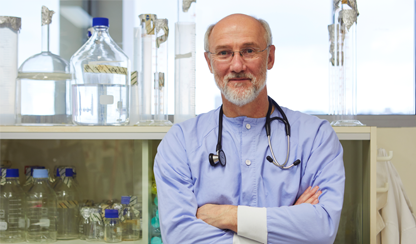 Leading clinician researcher at the Baker Institute, Professor Karlheinz Peter has been appointed as Head of the Baker Department of Cardiometabolic Health, an exciting new collaboration announced earlier this year with the Melbourne Medical School at the University of Melbourne.
As Department Head, Professor Peter will further strengthen the partnership by fostering new and innovative teaching and research programs across the two organisations to enhance the profile of cardiometabolic health.
Professor Peter is Deputy Director (Basic and Translational Science) and Head of the Atherothrombosis and Vascular Biology laboratory at the Baker Institute. In addition to his research program, he also works as an interventional cardiologist at The Alfred Hospital in Melbourne.
Professor Peter's research is focused on the role of platelets, coagulation and inflammation in the development of clotting, plaque build-up and heart attack, and he is well-known for his pioneering work in developing novel approaches for the treatment of cardiovascular disease.
Also announced this week is a new round of seed funding for the Baker Department of Cardiometabolic Health, with support for projects that will test new technologies to target chronic disease and investigate the long-term impact of COVID-19 on the heart.
The $500,000 in funding will be shared between four projects driven by collaboration between scientists at the Baker Institute and the University of Melbourne.
Risk-guided disease management program ($200,000)
led by Associate Professor Melinda Carrington, Head of the Baker Institute's Preclinical Disease and Prevention lab
This project will test a nurse-led, technology-enabled model of health care delivery, called Risk-Guided DMP, which includes an e-health app to deliver cardiac rehab. The aim is to reduce readmissions following a heart attack, thereby enhancing recovery and survivorship.
Progression of diabetic complications (PREDICT) study ($100,000)
led by Professor Jonathan Shaw, Head of the Baker Institute's Clinical Diabetes and Epidemiology lab
The PREDICT study, which began in 2018, aims to develop ways of identifying those people with type 2 diabetes who are at risk of developing diabetes complications. This funding will support the extension of the study to include participants from more diverse populations in Melbourne's northern and western suburbs.
Persistent cardiovascular effects of COVID-19 ($100,000)
led by Dr Erin Howden, postdoctoral fellow in the Baker Institute's Sports Cardiology lab
This project will look at the long-term cardiac changes from COVID-19 in recovered patients.
Biodegradable and anti-thrombotic stents ($100,000)
led by the University of Melbourne's Head of Chemical Engineering Professor Amanda Ellis and ARC Future Fellow — Biomedical Engineering Dr Daniel Heath
The goal of this work is to apply biomaterials science and engineering principles to develop next-generation biodegradable stents that possesses the necessary mechanics, imaging properties, and drug release characteristics to enable effective clinical use.
Stay on top of the latest findings with our newsletter
Subscribe