Professor Karlheinz Peter
MD | PhD | FRACP | FCSANZ | FAHA | FESC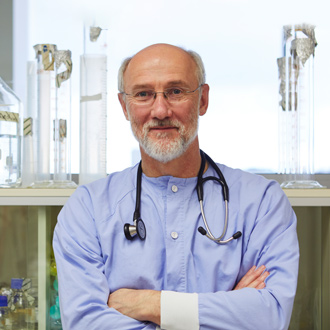 Professor Karlheinz Peter is Deputy Director (Basic and Translational Research), lead of the Atherothrombosis Program and head of the Atherothrombosis and Vascular Biology laboratory at the Baker Heart and Diabetes Institute. He is also an interventional cardiologist at the Alfred Hospital. He is Professor of Medicine and Immunology at Monash University, and holds adjunct professorial positions at La Trobe and RMIT University. Furthermore, he holds a NHMRC principal research fellowship.
Professor Peter underwent his basic science and clinical training at prestigious cardiology centres at the University of Freiburg and Heidelberg in Germany. He did his postdoctoral training at Johns Hopkins University, Baltimore and at Scripps Research Foundation, La Jolla, USA. Professor Peter has previously been the director of the cardiac catheter laboratory at the University of Freiburg. Although focusing on research, he continues to work part time as an interventional cardiologist at the Alfred Hospital. Professor Peter has received over 20 prestigious awards/prizes, including the central awards of the German Societies of Cardiology and Angiology as well as the Cardiac Society of Australia and New Zealand and the Australian Heart Foundation. He is editor (including chief and deputy editor) on several international basic science and clinical journals.
Professor Peter's research is focused on the cellular mechanisms of coronary artery disease and its consequence, myocardial infarction, encompassing the role of platelets, coagulation and inflammation in atherosclerosis, particularly the mechanisms leading to the rupture of atherosclerotic plaques. He has developed novel biomarker approaches and molecular imaging strategies using MRI, ultrasound, CT and PET towards the localisation of thrombi, inflammatory reactions and vulnerable, rupture-prone plaques and the identification of patients at risk of myocardial infarction. Furthermore, he applies innovative bio- and nano-technology to develop novel therapies for cardiovascular and inflammatory diseases.