10 February 2020
Media release
Forging new ground: a role model for his people and his students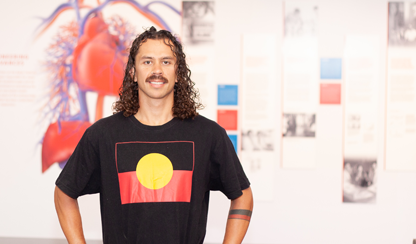 When the Baker Institute IRONMAN 70.3 Geelong gets underway this month, Tyrone Bean will be among the competitors taking on his first half IRONMAN. He has also set his sights on the New York Marathon and a full IRONMAN next year in Cairns.
Tyrone is a man with Kabi Kabi, Wakka Wakka, Quandamooka and Bindal bloodlines, and hopes to be a role model for both First Nations people and young people across the country.
A teacher of geography and First Australians as well as being the First Indigenous Program Coordinator at Trinity Grammar School, the 28-year-old is committed to raising awareness and funds for heart disease and diabetes and promoting an active lifestyle.
"I hope my participation will encourage Indigenous fellas at the school to become more active and hopefully get them out there to swim, cycle and run," Tyrone says.
Injuries have forced the former VFL footballer, junior cricketer and boxer to look at new opportunities to keep fit and Tyrone is not only taking on his first triathlon but also creating a safe space for First Nations people within the sport of triathlon and IRONMAN. With the help of Nat Health, he has helped create the First Nation Australian Triathlon team since the 1980s called TriMob.
In 2019, he was selected for the Indigenous Marathon Project to run the New York marathon but was forced to pull out after suffering a stress fracture following the half marathon on the Gold Coast.
Leading a healthy lifestyle and promoting good health is an issue close to Tyrone's heart. He knows all too well the impact that heart disease and diabetes have on Indigenous communities. He has also faced his own health issues, having been born with a heart murmur, which he later found was supraventricular tachycardia (SVT) — an abnormally fast heart rhythm arising from improper electrical activity in the heart — and required surgery.
Tyrone says sometimes his heart rate increases significantly and he does get short of breath but he knows when this is coming and knows how to manage it.
He says he wanted to get involved in triathlon and IRONMAN and to help raise awareness about the work of Baker Heart and Diabetes Institute, which undertakes research spanning heart disease, diabetes and obesity to physical activity and sports cardiology with a strong focus on the heart health of athletes. The Institute also has a facility in Alice Springs and is for more than 12 years has been working to reducing the health disadvantage experienced by Aboriginal Australians. For Tyrone, it is important that he is supporting better health for First Nations people.
He also hopes his efforts will be far reaching, and inspire motivation, confidence, inclusiveness and positivity. "I aspire to encourage the community to live a healthy lifestyle, to break stereotypes, and to ensure Indigenous people are synonymous with success," Tyrone says.
Indigenous Research Fellow at the Baker Institute, Ricky Mentha says meeting Tyrone and hearing his story is very inspiring for young Indigenous people. "We need role models like that," he says.
You can support Tyrone in his efforts at Geelong by visiting https://team-to-beat-ironman-geelong-2020.raisely.com/tyrone-bean.
---
For further information or to organise interviews please contact:
Tracey Ellis
T: 03 8532 1514
M: 0433 781 972
E: tracey.ellis@baker.edu.au