Professor Peter Meikle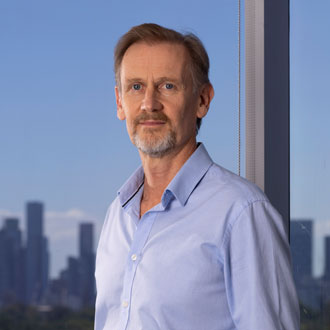 Professor Peter Meikle is Head of the Systems Biology Domain, Co-Lead of the Obesity and Lipids Program and Head of the Metabolomics laboratory at the Baker Heart and Diabetes Institute. He holds a NHMRC L3 Investigator research fellowship and affiliate positions at the University of Melbourne and Monash University. Professor Meikle is co-Director of the Australian Cardiovascular Alliance, Precision Medicine Flagship and was recently appointed Head of the Baker Department of Cardiovascular Research, Translation and Implementation at La Trobe University.
Alterations in metabolism underpin many chronic diseases including obesity, type 2 diabetes, cardiovascular disease and age-related dementia. While some metabolic pathways are well characterised, their dysregulation resulting from environmental and genetic influences are less well understood, particularly in a setting of chronic disease. Professor Meikle's research uses state of the art tandem mass spectrometry to obtain metabolic profiles from cell and animal models in addition to clinical and population-based cohorts. These data are integrated with genomic and clinical datasets to define how the environmental and genetic influence on our metabolism contributes to, and protects from, cardiometabolic disease. This approach is providing an improved understanding of disease mechanisms leading to new biomarkers for improved diagnosis and risk assessment as well as new therapeutic strategies to prevent and treat a range of metabolic diseases.
The Metabolomics laboratory is currently working with industry and clinical partners to establish a Clinical Lipidomics Platform to translate our findings into clinical tests and deliver improved risk assessment to the Australian population. This forms an important piece of the larger precision medicine framework currently under development by the Australian Cardiovascular Alliance, Precision Medicine Flagship.