Recognising our emerging leaders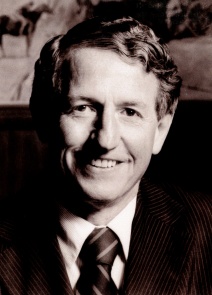 A prestigious award to recognise emerging leaders in heart and diabetes research has been established at the Institute. From 2014, The Sir Laurence Muir Prize for Outstanding Medical Research will be awarded annually to an Early Career Scientist at the baker Institute, whose research is judged by peers to be of outstanding merit, and likely to enhance the health and wellbeing of the community. The medal and significant $25,000 prize named in honour of Sir Laurence, a well-known figure in Australian business and philanthropy sectors, is testament to the enormous contributions that he made to the health and medical research sector, and in particular, the Baker Institute.
Commitment, insight and vision for developing a better Australia
Sir Laurence was knighted in 1981 and in 2001 was awarded a Centenary Medal 'for outstanding service to the business, financial and research community'. His commitment, insight and vision to building a more competitive, innovative country are remarkable. Sir Laurence served on the boards of many prominent companies including ANZ Bank, Alcoa Australia, Australian Consolidated Industries, Wormald International, National Commercial Union, The Herald and Weekly Times, Hudson Conway, PBL and Crown. His achievements include: establishing the Canberra Development Board to stimulate growth of the ACT economy; assembling a collection of 20th century art - now a feature of the new Parliament House; setting up the Australian Innovation Corporation to encourage the commercial development of Australian inventions; and serving as the inaugural Chairman of the Australian Biomedical Corporation.
A lifetime of contributions
Sir Laurence also served as an active fundraiser and philanthropist, and held many board and leaderships roles for a number of not-for-profit organisations. Amongst his contributions, he was a founding trustee of Earthwatch Australia and a Board Member of the Sir Robert Menzies Trust. He served on the General Motors Advisory Council and was active on the Anti Cancer Business (fundraiser) Committee, which he had chaired since its formation. He served on the Board of the Royal Flying Doctors Service (Victorian Division) for ten years, and was a corporate fundraiser for the initial National Heart Foundation of Australia, Anti Cancer Council, and Menzies Foundation appeals. For almost 40 years, he was involved in The Alfred hospital and then the Baker Medical Research Institute where he served as a board member and later Chairman of The Baker Board of Management. Sir Laurance was Patron of the Institute until his death, aged 85. His association with the Institute, which spanned more than 26 years until his passing in 2010, was one of both devotion and extraordinary friendship.
Remembering Sir Laurence Muir in perpetuity
The Sir Laurence Muir Prize is made possible by the Sir Laurence Muir Endowment Fund, which was established through the outstanding efforts of an external, volunteer committee (comprising Geoffrey Webb; Brian Randall; Tom Hogg; Margaret S Ross AM; John Bate OAM; Neville Bertalli; Gordon Moffatt AM and Andrew Miller) that worked with the Institute's fundraising team and a number of key donors. Committee Chair, Mr Geoffrey Webb said the contributions of Sir Laurence "...to the government and corporate sectors, as well as the not-for-profit and community arenas, bear true testament to the commitment, intellect and vision that we are celebrating through the establishment of the Career Development Fund".
The inaugural recipient of the Sir Laurence Muir Prize for Outstanding Medical Research was Dr Andrew Murphy. Dr Murphy's laboratory has a strong interest in leukocyte and platelet production, including how this contributes to diabetic complications such as cardiovascular disease. After completing his PhD at the Institute, Dr Murphy spent four years working with world leading scientists in metabolism and HDL research at Columbia University in New York. He returned to the Institute in 2013.
---
The Sir Laurence Muir Prize recognises and honours the exceptional contribution made to the Baker Heart and Diabetes Institute and the wider research community by Sir Laurence Muir. It will be awarded, by competitive application, to an individual who has demonstrated outstanding achievement relative to career opportunity and who has provided evidence of high leadership potential.
The recipient will also deliver the Sir Laurence Muir Oration highlighting the significance of their achievements.