18 October 2021
Media release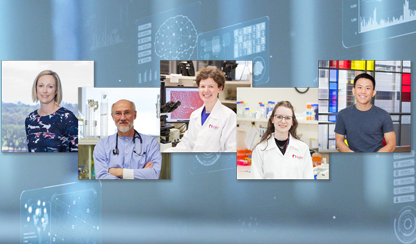 New Heart Foundation funding will help Baker Institute researchers test novel treatments for the most common causes of heart disease, including repurposed arthritis and cancer drugs.
Baker Institute scientists have secured several prestigious research fellowships and grants, worth more than $1.2 million, announced by the Heart Foundation today.
One successful project will test if a single dose of a repurposed arthritis drug is enough to protect the heart and allow it to work almost normally after a heart attack.
Following a heart attack, the heart becomes very inflamed, preventing it from working properly and potentially causing heart failure. A Baker Institute team has identified a drug that blocks a key part of this inflammation by targeting immune cells.
Heart Foundation funding will also support Baker Institute scientists to test new treatments for heart failure, including repurposing a drug that has already been shown to treat cancer, and using a simple dietary supplement to increase important lipids in the heart.
Baker Institute Director Professor Tom Marwick said better therapies are needed to reduce hospitalisation and to improve quality of life and survival in patients with heart failure.
"Currently half of Australia's heart failure patients die within five years of diagnosis, and it costs the health system almost $1 billion," Professor Marwick said.
"The Heart Foundation's generous support will help our researchers to tackle some of Australia's most critical health problems, using cutting-edge technology and the latest scientific approaches."
Professor Marwick warmly welcomed the Heart Foundation's investment in research.
"Cardiovascular disease remains the country's biggest killer and its most expensive disease. This problem is far from solved and we must work together to find new solutions."
Baker Institute recipients include:
Associate Professor Anna Calkin
2021 Future Leader Fellowship — Understanding our DNA to identify new drug targets to prevent heart disease and fatty liver disease
Associate Professor Calkin is interested in how our genes affect our risk of cardiometabolic disease. This study will determine which genes are important for heart attack risk, improving heart health following exercise, reducing blood fat levels and developing fatty liver disease.
2021 Vanguard Grant — A new way to regulate blood and liver fats
Associate Professor Calkin's team has identified a gene that plays a significant role in the regulation of cholesterol levels, as well other dangerous fats that contribute to cardiovascular disease. Associate Professor Calkin will investigate if lowering the level of this gene can have a therapeutic benefit, providing a new target for disease prevention.
Professor Karlheinz Peter
2021 Vanguard Grant — Are immune cells responsible for atherosclerotic plaque rupture?
Professor Peter will test his team's hypothesis that T cells, a type of immune cell, directly cause heart attacks and strokes by attacking proteins within atherosclerotic plaques – the fatty build-up in our blood vessels — leading to their rupture. The study opens up a new avenue to treat atherosclerosis, the underlying condition causing most heart disease deaths.
Dr Kate Weeks
2021 Vanguard Grant and 2021 Collaboration & Exchange Award — Novel therapies for heart failure
Dr Weeks' study will be the first to test a new class of compounds, known as 'small molecule activators of phosphatases' (SMAPs) to see if they can prevent cardiac dysfunction. It's hoped this will pave the way for the development of SMAP-based therapies, which could be taken orally for the treatment of heart failure.
Dr Laura Bienvenu
2021 Vanguard Grant — Targeting inflammation to improve outcomes after heart attack
Dr Bienvenu's team has identified a drug that blocks a key part of the dangerous inflammation caused by a heart attack. This study will test if a single dose of the drug is enough to protect the heart, allowing it to work almost normally after a heart attack.
Dr Yow Keat Tham
2021 Vanguard Grant — Targeting novel lipids in an oral based treatment for the failing heart
Plasmalogens are a type of lipid that are particularly enriched in the heart. Reduced levels are associated with coronary artery disease and heart failure. Dr Tham's study will investigate if dietary supplementation can increase plasmalogen levels in the heart and help prevent heart failure.
---
For further information or to organise interviews please contact:
Elise Snashall-Woodhams
T: 03 8532 1240
M: 0499 009 071
E: elise.snashall-woodhams@baker.edu.au